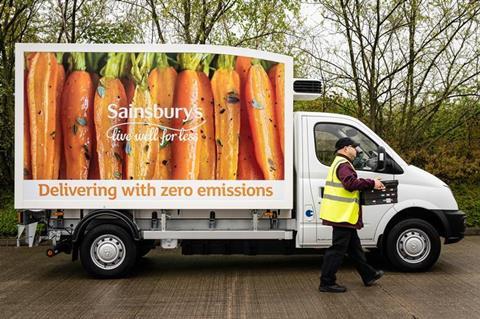 Sainsbury's has introduced an online donation programme to encourage shoppers to donate money to food resdistribution charity FareShare.
Customers can donate as little as £1 as part of the cause after making their online grocery delivery orders with Sainsbury's.
All funds raised by the supermarket and its shoppers through the digital initiative will go towards purchasing food to be redistributed within FareShare's network across the UK. FareShare said £2 can provide five meals at a children's breakfast club, while £10 could provide food for 24 meals at a community café.
The charity said the Food Donations Programme had been introduced in response to "increasing pressure on charities and food" owing to the impact of Covid-19.
It is also an extension of Sainsbury's in-store product donation points installed through its long-standing partnership with FareShare. Sainsbury's helped establish the charity alongside homelessness charity Crisis in 1994.
The launch comes as part of the supermarket's ongoing efforts to support its customers' communities. This has already seen it implement volunteer shopping gift cards to enable customers to shop for the most vulnerable through coronavirus, as well as stock the Big Issue magazine during the pandemic in a major supermarket first.
"We are proud to have been a founding partner of FareShare since its inception over 25 years ago and we are delighted to be able to continue our work with the charity, while offering new ways for our customers to donate," said Judith Batchelar, director of Sainsbury's Brand. "With increasing pressure on community groups and charities, we are committed to further support our mission to feed the nation and work with our long-standing partners to help the communities we all serve."

Lindsay Boswell, chief executive at FareShare, added: "As we draw nearer to the cold winter months, we know that there will be an increased need for food from the frontline charities we work with, which is why we're so pleased that Sainsbury's is running this new programme."