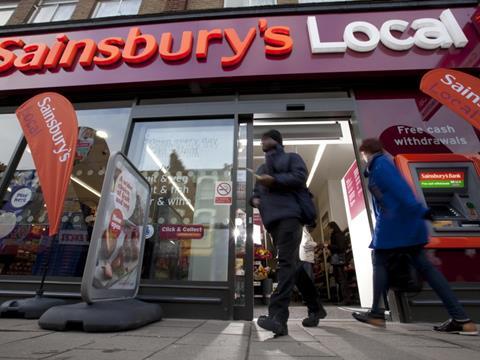 Sainsbury's has blamed a "deflationary environment" for its second consecutive quarter of negative like-for-like sales.
Though analysts had predicted a fall of as much as 4%, Sainsbury's revealed in a trading update this morning that like-for-likes fell 2.8%, excluding fuel, in the 16 weeks to 27 September. Including fuel, like-for-likes were down 4.1%.
Total sales during the 16 weeks slipped 0.8% excluding fuel, or by 2.3% including fuel.
In his first trading update as Sainsbury's CEO, Mike Coupe described the market as "dynamic and fiercely competitive".
"The long-running trend of more frequent, convenient shopping has accelerated, resulting in smaller basket sizes," he said.
"An increase in price investment and short-term competitor promotional activity, combined with favourable commodity markets, has resulted in deflation in many areas of our food business."
Like-for-likes for the first half of the year fell 2.1%, excluding fuel, or by 3.4% including fuel. Total sales were flat excluding fuel, but down 1.4% including fuel.
Coupe warned like-for-like sales in the second half of the year would be similar to the first half.
"In the second quarter, our performance has been impacted by the accelerated pace of change in the grocery market, including significant pricing activity and food price deflation in many areas. These conditions are likely to persist for the foreseeable future," he said.
Sainsbury's also revealed its convenience business reached annualised sales of £2bn during the quarter, and was growing at around 17%. It groceries online offer grew at 7%, which the retailer said had been impacted by "a high level of competitor customer acquisition activity in the quarter".
In the quarter, it opened 23 new c-stores and refurbished 10. It also opened two new supermarkets, extended three and refurbished two. It also said it was "on track" to deliver five Netto stores by the end of the year.