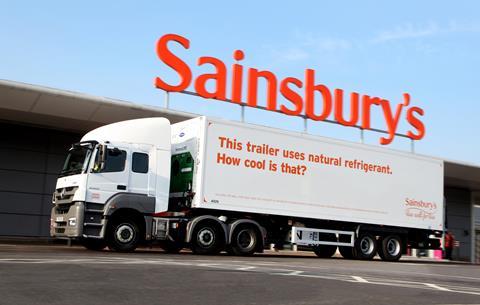 A pay dispute involving staff at Sainsbury's Waltham Abbey distribution centre in Essex could affect supply to the retailer's stores in London and the south east, according to the Unite union.
The pay wrangle involves 12 drivers, hired through outsourcing firm Harper & Guy Consulting, who are arguing that they are receiving £12,000 a year less that their counterparts who are employed directly by Sainsbury's.
They are threatening to stop work for 24 hours on 14, 15, 20, 21 and 22 December and for 24 hours from 6pm on Boxing Day.
The action would affect about 100 Sainsbury's branches, according to Unite, which represents the drivers.
The union said Sainsbury's and Harper & Guy had "point blank refused" to discuss the pay claim with its members.
"What we have here is one of the most flagrant cases of pay parity injustice that I have been involved with," said Unite regional officer Paul Travers.
"We feel that that Harper & Guy Consulting is hiding behind Covid-19 as a flimsy excuse not to engage in pay talks for 2020 and the glaring pay disparity issue."
Matt Draper, national officer for road transport and logistics at Unite, added: "Sainsbury's needs to remember a key worker is not just for the present Covid-19 emergency, but for the long-term as a contented workforce improves productivity. I urge Sainsbury's to intervene and resolve this injustice before it suffers reputational damage as a result."
A Sainsbury's spokeswoman said: "We are aware of a dispute between Harper & Guy and a small number of its drivers which operate from our Waltham Point depot. We encourage both sides to keep talking and can reassure our customers that we have contingency plans in place to minimise any disruption this may cause."