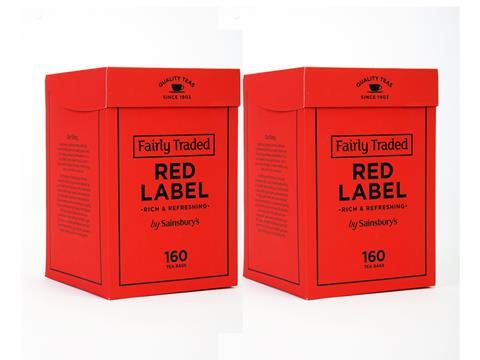 Sainsbury's has been forced to change how it displays its Fairly Traded tea online after being rapped by the advertising watchdog for potentially "causing confusion".

Labour MP Stella Creasy lodged a complaint with the ASA arguing that consumers could be duped into thinking the Sainsbury's own-brand tea was certified by Fairtrade.

Creasy, a vocal Fairtrade supporter, said the name of Sainsbury's own 'Fairly Traded' initiative "misleadingly suggested a connection" to the external scheme. "Put simply, their 'fauxtrade' tea is not the same thing," she said.

Her complaint specifically criticised the way Sainsbury's displayed its tea section online. The supermarket's own brand Ceylon tea, which is certified by Fairtrade, was referred to as 'Sainsbury's Ceylon tea'. Its Red Label tea, which is not certified by Fairtrade, was referred to 'Sainsbury's Fairly Traded Red Label' and had a Fairly Traded logo underneath the pack shot.

Creasy argued some consumers might assume both teas complied with Fairtrade standards.

The ASA cannot intervene on matters of brand name or packaging, but it has ruled today that the display of Fairly Traded tea online - which counts as an ad - could "cause confusion for consumers".

"We considered consumers were not likely to scrutinise the page and were likely to make decision to add products to their basket fairly quickly before moving onto their next product search," the watchdog said. "In that context, we considered consumers would not understand that the 'Fairly Traded' term specifically referred to a scheme run by Sainsbury's, and it would not be clear that the scheme was not related to Fairtrade".

It did, however, dismiss Creasy's other complaint that the ad was misleading in terms of the ethical standards that applied to the products. "We considered that consumers were likely to assume broadly that they would involve measures to ensure fair prices were paid to products and to ensure the standards of working conditions. We noted that Sainsbury's scheme included such measures, among other elements of their pilot scheme."

The supermarket said it was "pleased the ASA recognises the high ethical standards of our Fairly Traded tea pilot".

Sainsbury's argued that there were "numerous registered trademarks" that used the words 'fair' and 'trade' but agreed to change the online display of its tea to remove the Fairly Traded logo. Instead, it is simply called 'Sainsbury's Fairly Traded Red Label'.

However, a group of MPs led by Creasy argued for further action against Fairly Traded. "We warned them that it wasn't fair to consumers who trust these ethical standards to try to sell them their own tea under a similar name so we're pleased to see the ASA take action following our complaint," they said. "This ruling should be a wake-up call for Sainsbury's that backing out of the Fairtrade movement and pretending their Fairly Traded tea is the same won't wash."

Daniel Hale, head of campaigns at development agency CAFOD, backed the calls. "We want Sainsbury's to do the right thing here by listening to its customers, reversing this unpopular decision and putting the Fairtrade mark back on its own brand tea."

Sainsbury's first unveiled its Fairly Traded pilot in May to a backlash from Fairtrade and charities such as Oxfam. The initiative currently only applies to tea but could be extended to other categories in future.