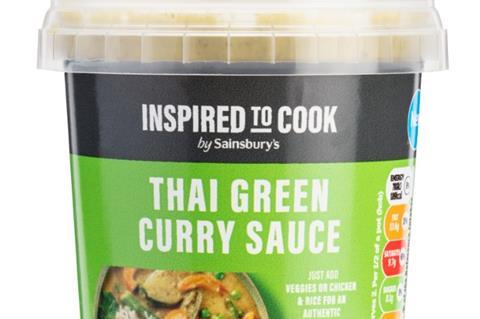 Sainsbury's has launched a new range of over 200 cooking ingredients, Inspired to Cook, as part of its 'Food First' strategy.
The supermarket's new own-label range includes condiments, herb mixes and home baking kits intended to make it easier for customers to cook at home.
Inspired to Cook products also include katsu curry sauce, porcini mushroom paste, frying pan sourdough pizza mix and truffle-flavoured olive oil, both in store and online.
Sainsbury's said Inspired to Cook aimed to encourage customers to make more homemade meals "without turning to a bank-busting takeaway" against the backdrop of rising food inflation.
The new range appears to rival Waitrose's Cooks' Ingredients, which also features a variety of go-to products used in many typical takeout recipes.
The Grocer understands the in-store space previously taken up by the food counters that shut down permanently during the pandemic may be used to accommodate the range expansion, though this will be determined on a case-by-case basis.
Sainsbury's is also revamping hundreds of stores across the country as CEO Simon Roberts ploughs through with his Food First plan.
The new Restaurant Hub format, which was first trialled at the Selly Oak store in partnership with Boparan Restaurant Group, is being expanded to 250 Sainsbury's supermarkets over the next three years as part of a wider restructure of its eat-in, takeaway and home delivery operations.
The move, along with the closure of around 200 in-store cafés and 34 "less popular" hot food and pizza counters this spring, is set to affect store layout for many Sainsbury's branches across the UK.