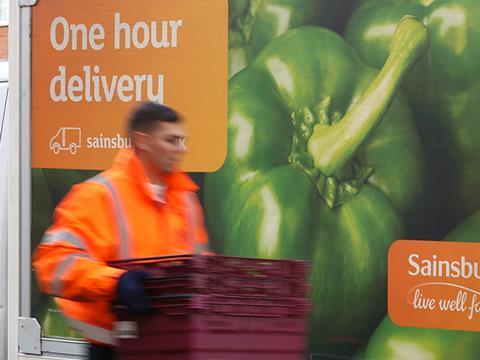 Name: Clodagh Moriarty

Job title: Chief digital officer

Our shopper scored the driver highly for service and punctuality. How do you reward good performance like that? We created a streamlined model for our in-store leadership teams last year, which enables Sainsbury's to be more effective in what we do. This also means we can reinvest in what matters most to our customers, which is our products and the service our staff give.

Sainsbury's availability score for this shop was 20/20 with no items swapped. How do you ensure availability stays at a high level? We work hard to ensure we give shoppers what they want in terms of service and availability, and most of our online grocery delivery service operates out of our supermarkets, which puts us closer to customers and what they want to buy.

Have there been any changes to your service or website over the past few months? We introduced an email for customers that confirms they will be receiving everything they requested and notifies them of any changes to their order. This comes alongside new software to enable more relevant and optimised customer experience online.

Have you noticed a spike in vegan orders this month? Our meat-free offer is increasingly popular, both in stores and online. We sell over 100 plant-based products, with our Love Your Veg own-brand range outperforming this growing market.

Do online shoppers leave feedback via Lettuce Know? How does this shape online operations? Yes, we receive over 100,000 comments each month via Lettuce Know. It gives our in-store and groceries online customers a voice, and helps us understand where we need to improve and what our customers really want in real time.
Is Sainsbury's prepared for this week's snow? What contingencies have you put in place? We regularly monitor forecasts, take appropriate action as needed, and have a great track record in getting grocery deliveries to customers whatever the weather.

How are you looking to reduce plastic use and food waste via online deliveries? It's about getting the balance right between packaging food in a way that helps reduce waste, while remembering that the purpose of packaging is to protect products through our supply chain and in customers' homes. We've reduced our own brand packaging by 35% since 2005, 83% of our own packaging volume is classed as widely recycled, and we offer the option of receiving grocery deliveries without bags.

Online performed well over Christmas. What was the key reason for this? It was down to us knowing what our customers want and literally delivering on it. We offered a wide selection of food, great quality and availability, and our price position improved against our competitors. Our £9 turkey crown, party food, and 30p vegetables were particularly popular, and sales of our Taste the Difference range grew over the festive period too.

Will there be efficiencies in Sainsbury's grocery deliveries through the merger with Asda? We firmly believe the proposed merger is a positive development for Sainsbury's, Asda and our customers. Together, we will be able to improve our range, quality and customer service, while lowering prices and reducing the cost of living for millions of UK households.