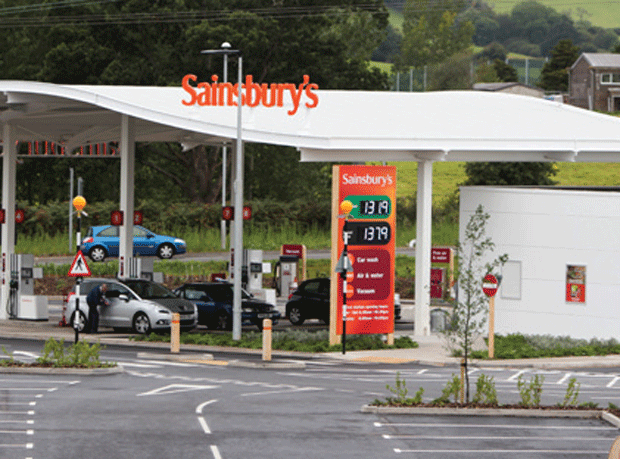 Sainsbury's has become the latest supermarket to slash its fuel prices – by up to 6p a litre on petrol.
The retailer, following Asda and Tesco's price cut on Monday, said this morning it would cut the price of unleaded petrol by up to 6p a litre and the price of diesel by up to 4p a litre from Friday.
Customers will pay no more than 129.9p a litre for unleaded petrol and no more than 136.9p per litre for diesel across Sainsbury's forecourts, it said.
"We want our customers to benefit from the recent drop in the wholesale price of fuel," said Sainsbury's head of fuel Richard Crampton.
"Fuel is a big part of the weekly budget for many households so we hope this cut will be welcomed by drivers across Britain."
In response, Asda confirmed it would slash its prices by a further 3p a litre on unleaded and 2p a litre on diesel, bringing the price of unleaded down to 128.7p a litre and diesel to 135.7p a litre, below Sainsbury's prices.
Earlier this week, Asda slashed the price of its fuel to 131.7p a litre for unleaded and 137.7p a litre of diesel, igniting another fuel price war and prompting Tesco to follow suit, cutting the price of its unleaded and diesel by 2p a litre and 1p a litre respectively.
Tesco response
This afternoon, a Tesco spokeswoman confirmed it too would drop the price of its fuel for the second time this week. "The price of unleaded will fall by up to 3ppl and diesel by up to 2ppl in all of our sites later this afternoon.
"We're also giving customers 5ppl off fuel when they spend £50 or more in store or online, so customers can make even bigger savings on fuel by shopping at Tesco, whilst also earning Clubcard points."
This story was updated at 15.51 with Tesco's response.