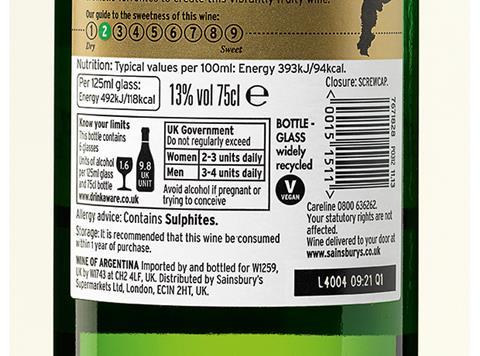 Sainsbury's today set the cat amongst the pigeons with drinks producers after rolling out calorie-labelled bottles across 20 of its own-label wines.
The retailer also unveiled research showing that 85% of customers did not know how many calories were in a glass of wine and 63% did not include the calories from wine when counting up their intake.
The move comes despite the Department of Health previously shelving plans for calorie labels on alcohol in the UK. The drinks industry had claimed that the move would confuse customers as retailers were already rolling out labels that included information on units and health warnings.
The EU is currently considering plans to force retailers and suppliers to show calories, although they could still be months away.
However, Sainsbury's claimed it was acting after two out of three of its customers said they would like to see calorie labelling.
"It is clear from our research that shoppers are confused regarding the calories in alcohol," said Helen Buck, chair of the company's responsible drinking steering group. "We hope that by clearly displaying this information on the bottle, we'll be able to help our customers to make responsible choices more easily."
The new Sainsbury's calorie-labelling appears on 20 of the new Winemakers' Selection own-brand wines, including the Winemakers' Selection Argentina Shiraz Malbec 75cl, WS Australian Pinot Grigio 75cl, WS Chiléan Cabernet Rosé 75cl, WS NZ Sauvignon Blanc 75cl and the Basics red wine 75cl.
Sainsbury's added that more than half of adults surveyed (58%) did not know what the government guidelines for daily alcohol consumption were, despite a third trying to control their alcohol intake in a bid to be healthier.