Sainsbury's is bidding to help families cut down their food waste with a new online tool called Sainsbury's Food Rescue.
Launched in partnership with Google, the tool gives tips and ideas on how to use up the food shoppers already have in their fridge or kitchen cupboards.
It also uses mobile voice recognition technology to allow users to say or input up to nine ingredients to find recipes ideas. The site features 1,200 recipes.
Live technology is also used to record the weight of food rescued and the money saved per completed recipe. This feeds into a leaderboard to show which regions are reducing food waste the most.
The launch of Sainsbury's Food Rescue comes as new data from Google found searches for recipes using leftovers had increased by a third, with 64% of searches carried out on mobile devices.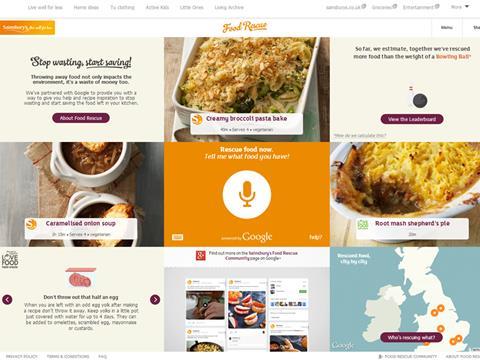 "Shopping habits have really changed. Families are savvier than ever, looking for practical help to make the most of the food in their cupboards and fridges," said Sainsbury's marketing director Sarah Warby.
"We know that confidence and knowhow can really help people reduce the amount of food they throw away. We've created Sainsbury's Food Rescue with Google to inspire people to turn the food items they already have into something delicious. And over the months ahead we'll be able to see how much food and money British households are saving by using Sainsbury's Food Rescue, as well as the popular ways to save," Warby said.
Indy Saha, director of creative strategy at Google, added: "More people in Britain are online than ever before and this growth is driven by tablets and smartphones. The average household in the UK has around 3.1 devices - the highest in Europe."
The tool was also welcomed by Wrap.
"Our research has shown that one of the main reasons that we throw away food from our homes is because we don't get around to eating it before it's gone past its best," said Emma Marsh from Wrap's Love Food Hate Waste campaign.
"We're delighted to have worked with Sainsbury's helping customers to reduce their food waste with the launch of Sainsbury's Food Rescue. It's a fantastic tool which can help everyone to make the most of their forgotten foods and leftover ingredients by providing some tasty recipe ideas."