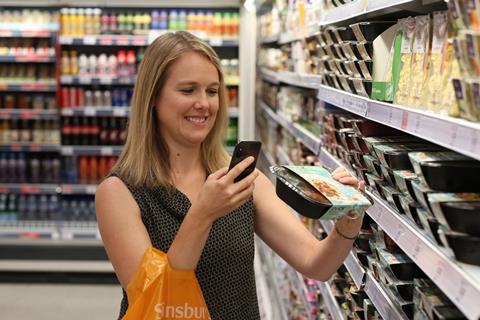 Sainsbury's will accelerate the rollout of its SmartShop system across "the majority" of its store estate "in time for Christmas".
The technology will be made available at "most" of its 770 convenience branches by the end of the year. This is up from 250 Local branches currently, alongside all Sainsbury's supermarkets.
SmartShop allows customers to scan and pack products as they shop, and is accessible through handheld devices available in supermarkets or an app on customers' mobile devices. It is designed to make shopping more convenient for customers and minimise interaction between shoppers and staff.
Sales through SmartShop have exceeded 50% in some stores and 37% of total sales across the retailer in the past quarter.
Sainsbury's and its rivals have conducted major drives towards scan & go technology in recent months due to shopper demand skyrocketing in the wake of the coronavirus outbreak, with Sainsbury's pushing SmartShop through social media, in-store signage and announcements as well as radio adverts.
Asda has made mobile scan & go available in all 581 stores, 200 of which went live during lockdown, while 310 M&S Food Halls now have its Mobile Pay Go app, up from 100 in April. Tesco has Scan as You Shop in 573 large-format branches, while Waitrose said its partners are guiding customers towards its self-service technology where possible.