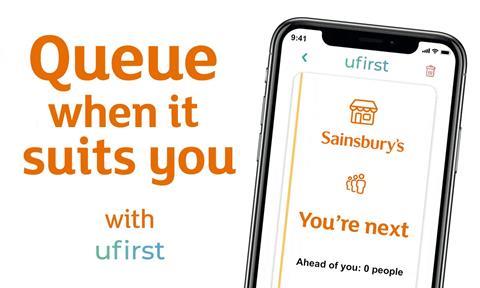 Sainsbury's is to trial a virtual queuing system at five of its stores from today (27 July).
The initiative is taking place at its Uxbridge, Pimlico, Dome Roundabout in Watford, Leicester North and Newham Royal Wharf stores.
Shoppers can enter the store to do their shopping when the app informs them they are at the 'front' of the line, without the need to be physically present in the shop. Those without a smartphone can also be added to the virtual queue with staff's assistance.
The system has been introduced through a partnership with the app Ufirst, and will run until the middle of August.
The scheme comes with a view to assess whether it will save shoppers time and keep them safe in light of coronavirus. It is designed to allow the supermarket to respond rapidly should the technology need to be introduced at short notice in the event of a local lockdown or scaled up government guidance.
The initiative is also part of Sainsbury's digitally-led response to the pandemic and changing shopping habits. This will also see the supermarket offer its SmartShop Mobile Pay app to more Local stores.
The SmartShop Mobile Pay app is currently available in 75 of its convenience branches, will be offered in 40 more by the end of the week. This app allows customers to scan and pack products as they go on either the handsets provided or their own smartphone.
"We're always on the lookout for how we can make our customers lives easier using technology," said Nigel Blunt, director of ecommerce at Sainsbury's. "We're trialling a virtual queuing system which enables shoppers to hold their place in the queue using their smartphone and we will be listening closely to feedback from our customers and colleagues."
"We're also rolling out SmartShop Mobile Pay to even more convenience stores, offering customers fast and contactless shopping that will help them get in and out of the store even quicker."
The move also comes a few months after Asda introduced a similar initiative allowing customers to queue romotely.