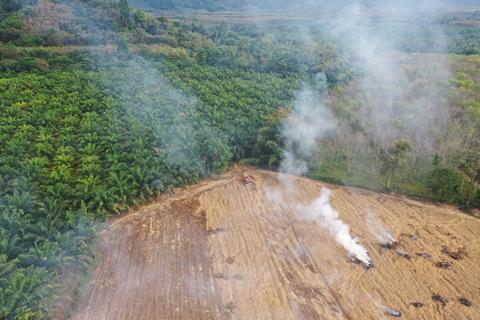 Last week, an FT article warned new EU deforestation laws­ could be "catastrophic" unless the bloc helps small producers and developing nations adapt. The point was made by Pamela Coke-Hamilton, executive director of the International Trade Centre, a joint agency of the UN and World Trade Organization. She argued banning goods linked to deforestation from entering the EU would favour big companies, which can trace where their produce comes from, and risked "cutting off" smaller suppliers.
But we shouldn't rush to dismiss these laws. After all, they are driven by a sense of urgency to protect the environment for future generations. Coming into force at the end of next year, the rules mean the EU will be the first in the world to ban imports of products linked to deforestation, including cattle, cocoa, coffee, palm oil, soya, wood and rubber.
Legislative changes such as these can have a big impact. The ban on plastic bags is a prime example. Since the legislation was introduced in 2015, billions of plastic bags have been removed from the supply chain annually.
Admittedly, there is a challenge for paper-based products to be sustainable. The move to the paperless office and lower consumption of books and newspapers means we have a short supply of recycled tissue.
But the answer isn't to fight legislation and cut down more trees. Instead we should be using alternative fibres from verified sources. Four in 10 Gen Z consumers will make purchasing decisions based on whether the product is good for them and the planet [Bain]. Creating products to satisfy this demand is where we should be focused.
Rather than fighting legislation and consumer demand, we should proactively embrace change and make more readily available products that have purpose.
Smaller suppliers have the edge here, rather than being at a disadvantage. They tend to drive change in the supply chain, while big brands change at a slower pace. We are a prime example of a small company that uses 100% bamboo in its products. The larger companies aren't there yet. For example, a tissue brand has recently come into retail advertising a bamboo product that only has 10% bamboo – the other 90% is mixed with tree products.
And I would question the assumption that the legislation is a threat to jobs. A shift to sustainable practices can lead to the creation of new jobs in emerging sectors, ensuring a balance between economic growth and environmental stewardship. The green economy should create more jobs than it removes. Change should be viewed not as an economic fear, but as an opportunity.
So rather than challenging the legislation, a more progressive approach would be to discuss what needs to happen to expedite progress towards commercially and environmentally sustainable solutions, and to support suppliers in securing traceable materials at scale.
The path is clear: embrace change, support impactful legislation, and ask ourselves how we can ensure our actions today resonate positively for generations to come.