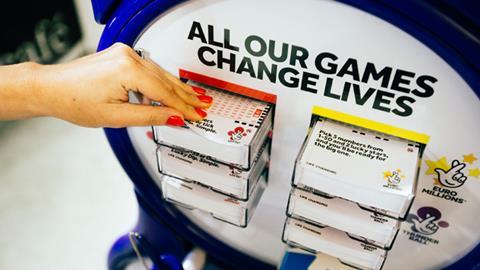 Allwyn has vowed to "breathe new life" into the National Lottery after overthrowing Camelot to seal the £80bn licence.
Europe's largest lottery operator, the Czech-owned Allwyn Entertainment was named as the 'preferred applicant' for the fourth National Lottery licence by the Gambling Commission this week, beating off 30-year incumbent Camelot as well as Sisal Spa and Richard Desmond's Health Lottery.
It did so with a promise to revitalise the game's fortunes, while tackling gambling addiction with better safeguards.
The lottery was a "national treasure", said Allwyn bid chair Keith Mills (best known for inventing the Air Miles and Nectar Card loyalty schemes), vowing that Allwyn would "deliver the National Lottery back to the heart of our country". Set to take over from February 2024, it will be run by ex-Sainsbury's CEO Justin King, who was appointed as Allwyn UK chair last month. King also vowed that independent convenience retailers and the fortunes of the high street were central to its plans, which commit to increasing the contribution to good causes to £38bn over the next decade (almost as much as the £45bn Camelot raised since it began running the National Lottery in 1994).
"The National Lottery is a vital British institution, and we're focused on ensuring it plays an even bigger part in society by increasing participation, while improving safeguards and giving back more to good causes," said King.
Details of Allwyn's successful bid have not yet been disclosed, but are understood to include plans to return the price of a ticket to the original £1 price point.
It's also likely to increase the number of draws, and to reduce the reliance on scratchcards and instant win games, which have become an increasingly important revenue stream under Camelot but make a lower percentage contribution to good causes while being linked to gambling addiction.
Allwyn has grown its penetration in all its lottery markets to an average of over 70% – while under Camelot participation has fallen from 65% in 1999 to 44% in 2020.
Its digital loyalty programme, in partnership with Vodafone, also means that retail play is safer, with a high percentage of players signing up via its app, meaning that users are known and usage controlled.
And despite its avowed digital approach, Allwyn has also joined forces with Save the High Street, with plans to combine its use of data with rewards for participating retailers.
Allwyn said technology was "a means to support a more immersive shopping experience, and our research shows there is considerable consumer demand, particularly among the younger generations, for better technology in local shops. The National Lottery [under Allwyn] will support communities and enable retailers (big and small) to thrive."
The Gambling Commission said Allwyn had committed to investment in the National Lottery that was expected to deliver "growth and innovation" across the National Lottery's products and channels, resulting in increased contributions to good causes, subject to the protection of participants and propriety.
Gambling Commission CEO Andrew Rhodes said the lengthy tender process had scrutinised a strong field of candidates, which also included Sisal and The Health Lottery, and the selection of Allwyn followed a "fair, open and robust competition which received four applications at the final stage" – the highest number of applications since the licence was first awarded to Camelot.
"I am confident that the success of the competition will lead to a highly successful fourth licence – one that maximises returns to good causes, promotes innovation, delivers against our statutory duties, and ultimately protects the unique status of the National Lottery."
The award is subject to a 10-day 'legal standstill' effective 15 March, during which rivals can challenge the decision. Assuming no judicial review, it will be followed by a 22-month transition towards the fourth licence, with Camelot continuing to run the lottery in the interim.