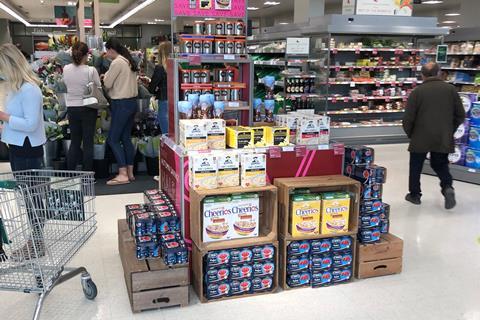 Waitrose continued its impressive form in service and availability this week, taking the winning title for the eighth time since the start of June.
Our shopper found the retailer's Bagshot store "clean, calm and well-ordered" on her bank holiday Monday afternoon visit.
Her experience was positive from the word go, with no queue for the car park, stickers to encourage social distancing and plenty of newly sanitised trolleys.
There was an array of coronavirus protocols, including hand sanitiser, well-managed queues, screens at tills, and employees wearing masks and maintaining social distancing.
Our shopper was impressed with staff, specifically noting the partner serving her at the checkout, who maintained eye contact and carefully handled her shopping.
The store had a logical and intuitive layout. Despite our shopper being unable to find every item on her list, staff happily accompanied her to find what she needed.
Waitrose's only downfall was its availability, which was the second worst this week. While the shop floor team made the effort to refill gaps on shelves, four items were out of stock and three were not stocked.
Sainsbury's in Dartmouth took the runner-up spot. Our shopper was encouraged by the safety measures in place including hand sanitiser, staff monitoring customer numbers, social distancing and screens.
However the store fell down on standards as our shopper had to navigate around a spillage on the shop floor as well as spotting broken and messy fridges, and "erratic" displays at its entrance. Broken scales also meant she had to visit different aisles to find working ones.
Availability was a struggle too, with two out-of-stocks and four not-stocked items alongside "a number of empty spaces" throughout the store. Our shopper saw staff starting to refill shelves later on in her visit, but this led to several unmanned trolleys causing obstructions in "nearly every aisle", creating a bottleneck of shoppers.
Staff won Sainsbury's back some points thanks to their friendly, polite and helpful service. But our shopper queued between five and 10 minutes for the checkouts and found the lines were not well-managed.
Lack of enforcement of safety measures by employees at Tesco in Trowbridge meant our shopper struggled to socially distance on several occasions, making her feel "uncomfortable".
There was also a lack of staff presence to assist customers and a spillage that hadn't been cleaned up.
The store did, however, provide the best availability this week. There was just one out-of-stock product and two items were not stocked.
There was praise for staff at Asda Harrogate, who our shopper described as "helpful, pleasant and knowledgeable". She was also happy with her swift, queue-free checkout.
The same couldn't be said for the general shopping experience, though, as she encountered a lot of restocking with staff and their trolleys blocking several aisles. She also spotted empty boxes and a spillage that hadn't been attended to.
Morrisons Reading let our shopper down from the outset with a lack of hand sanitiser, trolleys not being cleaned and no social distancing reminders.
She also found some staff "unfriendly" and flagged up some food that was going off. Overall, it was a "very frustrating" visit, with a "significant number" of gaps on shelves.
WEEK 12: Sunday, 28/08/2020 (4.00pm-7.00pm)
Asda
Morrisons
Sainsbury's
Tesco
Waitrose
Location
Harrogate
Reading
Dartmouth
Trowbridge
Bagshot
Date
28/08/2020
28/08/2020
28/08/2020
28/08/2020
28/08/2020
Time slot
4-7pm
4-7pm
4-7pm
4-7pm
4-7pm
Shop starts
04:00
05:30pm
01:09
04:10pm
04:30pm
Visit Duration
01:01
01:45
01:09
01:38
00:42
Shop Duration
00:50
01:35
01:02
01:29
00:38
Car Park (10)
8
7
10
9
10
Signposting (up to 1)
1
1
1
1
1
Queueing time to park (up to 2)
2
2
2
2
2
Trolleys (up to 2)
1
1
2
2
2
Queueing time from parking the car to enter the store (up to 3)
3
3
3
3
3
Feedback (up to 2)
1
0
2
1
2
There were no staff visible or actively implementing any social distancing guidelines, however there was a notice and hand sanitisers at the point of entry from the car park.
Very little guidance, no stickers Trolleys were not being cleaned. staff unfriendly. Money required to get a trolley, not signalled anywhere. Lost 10 minutes trying to get change in a COVID-19 period. On entering shop both hand sanitisers empty. When told staff was told that there was others in shop that working
The store is small and therefore the car park is too. I have visited before but on this occasion noticed that Sainsburys offers the option for commuters to park there daily for a fee. I parked to the side of the building and when leaving with a full trolley realised there was no ramp down from the curb so this was awkward. At the entrance to the store there was a Sanitiser station, polite safety notices, railing in place to separate shoppers in and out and a staff member counting people in and out. There was no queue and shoppers were moving freely.
The signage on approaching Tesco's is large clear and easy to follow. Once entering the car park it was easy to navigate and there were plenty of spaces despite it being a Friday afternoon. I found a place quickly and there were lots of trolleys neatly parked and available. On approaching the store there was a display of flowers outside which did restrict the approach and meant that if someone stopped to look them it would be harder to keep a good distance away. On entering the store there was a one way system operating, so you entered by one door and exited by the other and this was clearly marked and items placed across the dividing line to ensure people did not go the wrong way. There was however no one at the entrance and people were randomly entering the store without social distancing. Once inside there was access to hand and trolley antibacterial liquid, wipes etc.
I had to queue for 1 minute - there were 5 customers in front of me. The floor was clearly marked with stickers showing where to queue and when I reached the front of the queue I was handed a freshly sanitised trolley from the gentleman outside managing the queue
Store standards (20)
6
8
8
8
18
First impression (up to 5)
2
0
3
2
4
Feedback
On first impressions the store was quite busy, but not very busy. There were no staff actively helping to guide customers through the social distancing or the sanitation of hands or trollies/baskets. The entrances/exits (there are two) are quite small and narrow, which did not help with social distancing - I think a member of staff managing entry and exits would have been beneficial.
Very little guidance, no stickers Trolleys were not being cleaned. staff unfriendly. Money required to get a trolley, not signalled anywhere. Lost 10 minutes trying to get change in a COVID-19 period. On entering shop both hand sanitisers empty. When told staff was told that there was others in shop that working
First impressions on this shopping trip to the store were markedly different from others. The lighting felt dimmer and there was a feeling of busyness that was accentuated by the number of empty spaces on the shelves of the flowers and the erratic displays in the entrance. 3 staff were chatting to each other near the kiosk and I overheard one say that there had just been a massive delivery that had arrived.
The signage on approaching Tesco's is large clear and easy to follow. Once entering the car park it was easy to navigate and there were plenty of spaces despite it being a Friday afternoon. I found a place quickly and there were lots of trolleys neatly parked and available. On approaching the store there was a display of flowers outside which did restrict the approach and meant that if someone stopped to look them it would be harder to keep a good distance away. On entering the store there was a one way system operating, so you entered by one door and exited by the other and this was clearly marked and items placed across the dividing line to ensure people did not go the wrong way. There was however no one at the entrance and people were randomly entering the store without social distancing. Once inside there was access to hand and trolley antibacterial liquid, wipes etc.
There is hand sanitiser available when you walk in operated by a foot pump. There was an attractive display of groceries on half price right in front of me and another to the right which was neatly displayed and well stocked. There was also a nice selection of flowers available for sale at the front of the store. The store felt calm and not too busy.
Displays (up to 3)
0
0
0
2
3
Availability and replenishment (up to 5)
2
2
3
3
4
Feedback
In spite of the staff's efforts to replenish stock throughout the store from fruit and veg to dairy, frozen and tinned there was still a number of aisles and shelves where stock was missing and/or lacking. There were a number of items in the shop where I picked up the last product on the shelf. There were also a number of items on my list that were OOS. Messy shelves with empty boxes was also a common theme (please see pics). Staff were trying to refill, but in doing so they also obstructed main aisles.
Although none of the shelves stripped bare, there was significant amount of items out of stock, very few staff availed to help out and the 2 we managed to get hold of were unable (although very pleasant) to help out as they were either a cashier or a car park attendant
There were many empty shelves in the store and at first there seemed to not be any staff around but I feel this was just timing because as I wandered towards the back of the store several staff came out of the back area pushing cages laden with products. After about 20 mins it was clear that staff were trying to fill shelves as fast as they could which was great but it also made the aisles messy and random cages/trolleys were littered about for no apparent reason.
The signage on approaching Tesco's is large clear and easy to follow. Once entering the car park it was easy to navigate and there were plenty of spaces despite it being a Friday afternoon. I found a place quickly and there were lots of trolleys neatly parked and available. On approaching the store there was a display of flowers outside which did restrict the approach and meant that if someone stopped to look them it would be harder to keep a good distance away. On entering the store there was a one way system operating, so you entered by one door and exited by the other and this was clearly marked and items placed across the dividing line to ensure people did not go the wrong way. There was however no one at the entrance and people were randomly entering the store without social distancing. Once inside there was access to hand and trolley antibacterial liquid, wipes etc.
There were no nectarines or peaches on the shelves but I couldnt see anyone restocking the fruit and veg section. The cooked meats eg Ham were very low on stock but there was a member of staff called James who was restocking this area. I asked him if there was any wafer thin ham available as there was none on the shelf and he checked on his machine and told me it was coming in later that evening. There was quite a bit of restocking going on throughout the store but it was all done in a tidy and well ordered way.
Obstructions (up to 3)
0
3
0
0
3
Spillages (up to 2)
0
2
2
0
2
Condition of the store in terms of cleanliness (up to 2)
2
1
0
1
2
Feedback
Store standards overall were clean and good.
Standards seemed ok, although were some empty boxes etc. However no obvious marking for social distancing
I loved shopping here the last time but this was a very different experience. The store felt like it had undergone a busy day and had not yet recovered so staff were busy doing the best they could with limited resources. For example; Jo was stocking items in a Dry Goods aisle and as she went past me I asked for some help with the rice I needed to buy. The exact item (Laila Basmati 2kg) was not listed on a shelf edge but a smaller package was listed. There was a very similar item (Laila Basmati extra long 2kg) was stored on the top shelf but we could not find a price ticket on a shelf edge to show the cost. Cages, trolleys and boxes were evident in nearly every aisle and at one point towards the back of the shop there was a number of cages creating a bottleneck for shoppers.
Overall I thought the store itself was light, bright and clean, but within the store there were several trolleys full of empty containers left in the aisles, I saw three spillages with signs warning of the wet floor which were not cleaned up for the duration of my shop and there seemed a lack of staff to attend to customer needs. I had to stand on the bottom shelf 2 times and ask a member of the public to help once when I couldn't reach a product as it was at the back of the shelf and inaccessible and I couldn't find a staff member to help.
The store was clean and tidy and well lit and it didnt feel busy or overcrowded. The shelves that had stock on were tidy and ordered. There were a few items out of stock but there were staff in various aisles restocking
Store layout (10)
4
5
6
5
8
Did the store layout seem logical and intuitive? (up to 2)
0
1
2
1
2
Was it easy to navigate the store while also feeling safe? (up to 6)
2
2
4
2
4
Did the store offered any Click & Collect services? (up to 2)
2
2
0
2
2
Shop Floor Service (20)
13
6
17
4
19
Product location (up to 5)
0
0
5
0
5
Staff politness/responsiveness (up to 5)
5
1
4
1
5
Feedback
Staff, very good and helpful, a few 'in the way' whilst carrying out their role, but all very pleasant and knowable when asked to assist me.
Found one item but was rotten, staff went to find more out the back but none available- helpful. Most items that out of stock couldn't find member of staff to help. One item "mashed potatoes" staff went to look for it but out of stock, helpful but when I asked about another item didn't know and then said was a cashier and therefore didn't know shop floor very well
N/A
Throughout my shop I struggled to find staff when I needed them. There seemed very few staff on the shop floor and I walked down several aisles before finding one. When I asked about different products one member did show me what was available but could not find or tell me whether my product was out of stock or not stocked. I was pointed in the right direction for items but the information was very limited 'try aisle 18' was one response. I got the impression that they were either short staffed and under pressure or not interested in helping me and it did not incline me to want to return to this particular store.
As I mentioned earlier James helped me with the wafer thin ham which was out of stock. I also couldn't find the Brewdog Nanny State so I asked a girl who was restocking in the area and she advised that they dont stock the Nanny State but she offered me the Brewdog Punk Alcohol Free as an alternative. I also couldnt find the Air Wick - I was looking in the right area and I asked a member of staff if they stocked Airwick but she advised that all they had was what was there. There was plenty of Glade and Febreze but no Airwick.
Was it easy to find a member of staff (up to 3)
3
0
3
1
3
Were staff easy to identify through their uniform or name badges (up to 2)
2
2
2
0
2
Staff presentation (up to 5)
3
3
3
2
4
Feedback
All my encounters with staff were excellent. One male member of staff restocking cheese was able to help me with another product providing me with the exact aisle
We only managed to find 2 / 3 members of staff and they were ok
I engaged with 5 staff members and they were all polite and helpful. Liam was in F&V and when i asked him if they had organic broccoli he confidently told me that it had recently been taken off the shelves but they hoped to restock again in a few weeks. Sandra assisted me to locate Carbonara Sauce and took me to the fridge. Others were there but she said they probally stopped selling it during lockdowa and it wasn't back in yet. She said they were still waiting for some items to be delivered. AS she talked to me, she spotted some empty boxes and tidied these up at the same time which was a thoughful touch. Jo helped me with the confusion over whether the rice was in stock or not, she even went outside to check the delivery for me and returned with another rice product that was also needed on the shelves so she could stock that up. This was great ownership. Ashleigh helped me to find Boursin and accompanied me to the fridge where there was an empty Boursin shaped space. I asked her if there might be some out the back but she apologised and said the section had just been worked so if it wasn't on the shelf then they were out of stock. Finally, Leon served me on the till and was friendly and helpful.
The Staff I saw were well presented but their code of conduct did not seem uniform. Some staff wore masks (some white, one with a skull face on it!), the women who was at the checkout, wore a mask while I was going through the till then took it off for the next customer. When I asked for help from a staff member I found myself stepping back to try and keep a distance and although the signage was good (lines, stickers stating 2 meters etc) I was left feeling very unclear about Tesco's protocols in this matter.
All staff were wearing masks - I didnt notice anyone wearing gloves. Staff maintained social distance
Tills and checkouts (20)
18
13
14
19
19
How well managed were the queues leading up to the till-operated checkouts in terms of maintaining order and social distancing? (up to 2)
2
1
0
2
2
How well managed were the queues leading up to the self-service checkouts in terms of maintaining order and social distancing? (Please observe after you've completed your shop, and include observations around attentiveness to customers requiring help due to flashing lights/unattended items in bagging area) (up to 2)
1
1
1
2
2
How long did it take to queue (prior to scanning) (up to 4)
4
2
2
4
4
Please rate checkout staff on their customer service and safety (up to 7)
6
5
6
6
6
Time for G33 items to be scanned (including payment) (up to 3)
3
2
3
3
3
Was the till receipt free of mistakes? (up to 2)
2
2
2
2
2
Feedback - please provide any further details/feedback on the tills and checkout:
I was served by Liz, she was chatty and genuine and took care to handle my shopping with care.
No queues so therefore went quickly. When queuing to get change for trolley at beginning of shop, no social distancing (no marking a the customer service desk) my husband had to turn around and ask the lady behind - having been nudged several times with her mobile - whether she had heard of social distancing
The checkout area was cluttered and frantic. There were two queues for two manned checkouts but a third was opened after another customer complained. There was then some confusion with another customer who was sent over to the new till, but the man was in line and waiting for his partner to join him with the trolley. It was all very amicable, just a little messy. There were boxes and cleaning products and things fallen over and it just felt cluttered. 3 of the 5 self service tills were open and that seemed to be moving okay. Several customers wandered from one queue to the next aisle and back again looking for a shorter queue. The Argos area is next to the tills and this also seemed fairly busy with people milling around.
The woman serving me looked me in the eye, said hello and was careful with my shopping. She wore a mask and worked behind a screen. There was no queue at all and I walked straight up to be served. There was 9 tills open as well as 10 self service and 6 scan your own and no queues throughout which was great as the aisles remained clear. There was also a taped line the length of the store next to the tills so people could divide between loading their trolleys and walking out of the store. The checkout woman was efficient and pleasant, although she did take her mask off after serving me and served the following customer without it on.
I was queuing behind one other customer and a member of staff asked if I would like to move to a different till which they were just about to open so I was only waiting for 1-2minutes before I was served
Availability score (20)
9
5
11
16
9
Of the 33 items on your shopping list how many were:
Available (up to 20)
26
23
26
30
26
Out of stock (-2 per item)
4
5
2
1
4
Not stocked (-1 per item)
3
5
5
2
3
Availability %
86.7
82.1
92.9
96.8
86.7
Please note down the items on your shopping list that were out of stock (please highlight the products that have managed to get a satisfactory substitutions)
OOS - Brewdog Nanny State

OOS - Nectarines

OOS - Mash

OOS - Garden Peas

Didn't perchance subs, not a great deal of choice in stock.

Honey

Ham

Nectarines

Baby bel Peaches

Mash

Boursin - no substitution made

Own label Carbonara sauce - no substitution made

Own Label Red Split Lentils 500g
Nectarines,

Wafer Thin Honey Roast Ham,

Carbonara Sauce withPancetta,

Natures Finest Peaches.

The store put a sticker on the shelf label saying temporarily unavailable when an item is out of stock. I still checked a couple of items with team members

Please note down the items on your shopping list that were not stocked (please highlight the products that have managed to get a satisfactory substitutions)
DNS - Organic Broccoli

DNS - Cravendale Milk 2000ml

DNS - Laila Rice 2000g

Didn't look at subs.

Brew dog ale

Carbonara sauce

Fish fingers

Egg noddles

Walkers Thai nuts

Organic Broccoli - Ordinary Broccoli substituted

Babybel mini reduced fat 6 x 20g - substituted for package size of 12 x 20g

Brewdog Nanny State - No substitution made

Natures Finest Peaches in juice - No substitution made

Laila Basmati 2000g - substituted for Laila Basmati Extra Long rice 2000g

Own Label Carbonara Sauce with pancetta 350g (they did a carbonara sauce without the pancetta,

Albert Bartlett Rooster Potatoes 2000g

Air Wick Spray Refill,

Birds Eye Gluten Free Fish Fingers,

Brewdog Nanny State Ale

Please give any other details or info about your shopping trip, good or bad
Busy in Harrogate but relatively quiet in the car park. Clean and tidy trollies. One annoyance at this store is the need to have change to put in to the pay and display machine - (issues a ticket that is refunded against spend in-store). Multibuy prominent at entrance Optician CS Pharm Closed Travel Money kiosk Timpson photo and shoe and dry cleaning Usually I only have to ask a couple of times for location of an item, or stock levels, on this occasion I honesty asked for location on about 10 items so inscrutable was the stock locations in store. Aisles were named and numbered, but I struggled to located lentils and pulses amongst other items including….GF FF, Alcohol free beer. Functional store, disorganised layout, lacking in stock, I'd only shop here if I really had to!
Very frustrating mainly due to lack of staff on shop floor and difficult to read shelf product labelling Therefore difficult to know whether item out of stock or no5 stocked
The car park and entrance are in good condition, clean and tidy and have well presented COVID signage to assist shoppers. There are plenty of M&B and Disabled spaces. Arrows clearly show the exit from the car park and despite being a small store there is petrol, cashpoint, Brita filter recycling, other recycling, Local charity drop off, news & tobacco kiosk and wheelchair availability. The sanitiser station was clean but I found the sanitiser itsled sticky and unpleasant. The staff were all very friendly but clearly busy with the just arrived delivery and trying to restock the empty shelves, of which there were many. The weighing scales in the F&V section were not working and I found this frustrating as I had to walk all over the aisles looking for scales that worked. There were untidy fridges that weren't working but were cordoned off with barriers and in the self service till section one of the till areas was also cordoned off and being used as a cleaning station. For both these things its perfectly understand able that its necessary to do this, it just felt untidy and dishevelled.
Down the centre of the shop is a large aisle with very clear large signs informing you of products down each aisle. I found this extremely helpful as I was new to the shop and therefore unfamiliar to the layout the only exception to this was the area for shampoo, body care etc which was located in the far corner and was difficult to find. The aisles are a good size with clear 2 meter markings on the floors. There is a click and collect service available, online shopping and scan as you shop which are all beneficial in reducing contact. Certain areas such as the hot food area were cordoned off but otherwise the store seem to be operating as usual.

Own Label Carbonara Sauce with pancetta 350g (they did a carbonara sauce without the pancetta. Albert Bartlett Rooster Potatoes 2000g

The store is well managed and there were plenty of members of staff around to help . The store is clean and well ordered and it didnt feel busy. There were enough tills open for the number of customers in the store and all the staff were polite and helpful.
TOTAL SCORE (100)
58
44
66
61
83