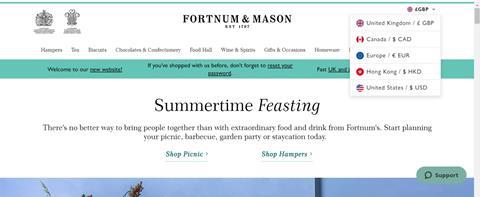 Fortnum & Mason has revamped its website with a focus on customer service and convenient shopping.
The luxury retailer debuted the refreshed website last week. It includes shopping options in multiple international currencies (GBP, euro, US dollars, Hong Kong dollars and Canadian dollars) and the option to pay with Google Pay for the first time.
These new options come alongside standard credit and debit cards and PayPal, which are already available.
The site also stores shoppers' payment details and favourite products to make reordering more straightforward, and has added order updates and delivery and returns tracking features.
Customers can also create a wish list of items that can be shared with other account holders for gifting.
Shoppers who already have an online account with Fortnum & Mason need to update their password to access the host of new features.
In an email sent to customers, Fortnum & Mason said: "After 313 years of trading, innovation remains at the heart of our business and informs everything we do. We're proud to welcome you to our new website, designed to bring even more of the exceptional service we are known for to our online customers.
"With a host of new tools and features at your disposal, created with convenience in mind, it's now easier than ever to shop with us from wherever you happen to be in the world."