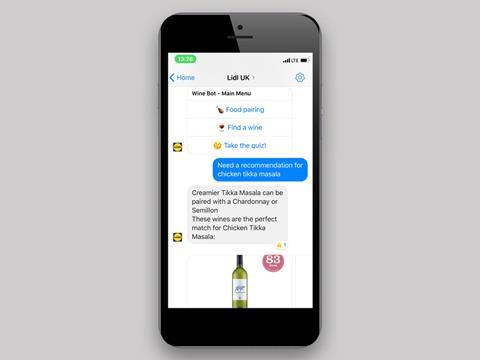 Lidl is creating a new customer service chatbot which will use artificial intelligence to handle basic enquiries.

Customers will be able to chat to the bot using Facebook Messenger and get answers on straightforward matters like store opening times.

Lidl already has an AI-powered 'winebot', a chatbot which answers questions on wine. Customers connect with 'Margot' - a play on the French wine region Margaux - by visiting Lidl UK's Facebook page.

Speaking at Thursday's Internet Retailing Expo in Birmingham, Lidl UK's director of ecommerce Alex Murray revealed that a customer service bot was in the pipeline.

"We are looking at doing a service bot," he said. "I think we are going to see more and more service bots. Any activity that happens with a retailer that is low value-add, where a human can't add a lot of value, I think there's great potential for that.

"Ringing up to ask about store opening hours - they should talk to a chatbot.
"If, however, you've got some problem or something happened in store that you're really upset about, I want you to talk to a human."

Murray told The Grocer the customer service bot was an international Lidl project which we'd see working, "within the next six months to a year".

Margot's abilities include making 220 food and wine-pairing recommendations, and answering questions on regions and 640 different grape varieties.

Her jokes include "someone told me I could cook with leftover wine. I was confused, what is leftover wine?"

But she is quickly thrown by more oblique questions like 'what is wine?', leading her to offer the customer services telephone number.

Murray said: "Bots are not clever. As soon as you go ever-so-slightly off-piste, or off topic, or say things in a particularly non-logical way, the bot doesn't understand."

He added: "For repetitive, not complex questions, it can be a good thing. Customers can get the right information in a timely manner in a way that's acceptable to them, without the wait.

"But there are other areas where I wouldn't let a bot near the scenario because I want a human in that situation.

"You've got to think carefully about what the scenarios are where a bot actually adds the most value."