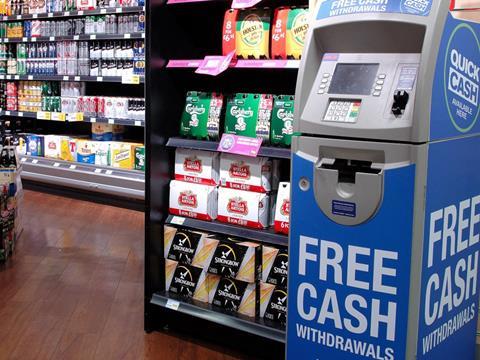 The UK's main cash machine network has given rural convenience stores a shot in the arm in a move to stop the "alarming" erosion of the network in the countryside.

Link this week announced a new "super-premium" that it said would significantly increase payments to store owners by up to £2.75 for each cash withdrawal.

It said the incentive would take effect from April and would be available to an initial 1,000 free-to-use ATMs.

This was likely to increase to about 3,500 as cash withdrawals at ATMs continued to fall, it said.

Eligible stores were those with ATMs that were at least 0.6 miles from the nearest free-to-use machine, or that formed part of Link's Financial Inclusion Programme, which safeguards free machines in "remote" and "deprived" areas, it said.

Operators of eligible ATMs currently get a top-up subsidy of up to 30p through the Financial Inclusion Programme, on top of the interchange rate, which is the fee paid between card issuers and ATM operators.

Link said the super-premiums would also be made available to operators that converted pay-to-use ATMs to free-to-use in Financial Inclusion Programme locations.
"While many consumers are turning to alternative payment methods such as contactless cards, it is vital we continue to provide free access to cash to those who need it. These premiums will further safeguard ATMs in remote and less well-off areas," said Link chief executive John Howells.

Association of Convenience Stores chief executive James Lowman said: "Rural convenience stores are becoming ever-more important as providers of ATMs with other businesses, especially banks, abandoning these areas across the UK."

Access to a cash machine at a rural convenience store was cited by local customers as one of the most valuable services offered at that store, so it was essential Link supported the rural network of ATMs, he said.

Lowman added, however, that while the ACS welcomed Link's decision to introduce a super-premium for the remaining ATMs in rural areas, this was also evidence of its interchange fee cuts over the past year having a "disastrous impact" on rural communities.

"It is wrong that Link continues to wield such power over what is an essential service to millions of people. We need a long-term strategy backed by proper funding to secure a strong ATM network," he said.

Which? Money managing director Jenni Allen suggested boosting premiums for machines in remote areas had so far not been enough to stop cashpoints closing across the country. She hoped the latest move would be enough to arrest this, she added.

"What is urgently needed is for a regulator to be given a duty to protect access to cash, so that the millions of people who rely on it in their lives are protected from rapid changes through ATM and bank branch closures."