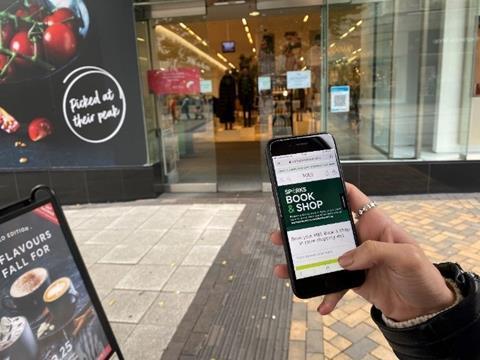 M&S has rolled out its reserved shopping slot scheme to all 566 standalone Food Halls and branches containing a Food Hall ahead of lockdown measures across England from 5 November.
The Sparks Book & Shop service allows Sparks loyalty cardholders to reserve a 30-minute arrival time on the M&S website to do their shopping. The upmarket retailer is allowing up to two customers per household to book a slot, and upon arrival at branches, shoppers are required to check in with hosts at the entrance before entering.
The initiative is designed to better manage customer flow and numbers coming into its stores, as well as eliminate the need to queue outside. M&S will continue limiting the number of customers coming into its stores to ensure social distancing can be adhered to.
The rollout follows a "successful" trial of the scheme at 80 branches across England and Wales.
Sparks Book & Shop also comes alongside M&S's Mobile Pay Go app, which allows shoppers to scan and pay for their shopping on their smartphone without the need to visit a checkout.
M&S is the first major retailer to introduce a service such as this across all its grocery stores. The John Lewis Partnership is currently trialling a similar initiative at six of its Waitrose supermarkets and three John Lewis branches, while Sainsbury's is testing a virtual queuing system at five stores.
"With winter ahead, we know customers are increasingly concerned about queuing, so in response, we wanted to deliver a quick, digital solution to help them shop," said Helen Milford, stores director at M&S. "Designed by our in-house tech teams, Book & Shop does just that, helping Sparks customers guarantee a slot at a time that suits them and removing the need to queue should there be one. Of course, customers will always be able to visit M&S without a slot, but we hope this is a small way we can help make things a little easier for our customers."
The upcoming second national lockdown in England will see non-essential businesses such as pubs, bars, restaurants and non-essential shops close for four weeks, while schools, colleges and nurseries will remain open.