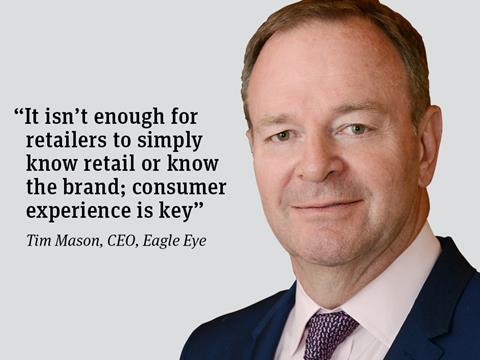 In the past, consumers were accustomed to the community feel of their local shops. Shopkeepers knew who they were and what they normally bought. Personalisation was working. Then came the impact of self-service stores which changed the way Britain shopped. As early adopters of e-commerce, UK customers also paved the way into online food shopping. The world of digital altered the fabric of our shopping behaviour and today online offers the chance to achieve this personalised experience in a new way. At Eagle Eye's Digital Connect event last month, leaders came together to discuss how grocers can harness digital to recreate this personalised experience, online, in-store and via mobile.

First: data data data. As customers shop online, log into in-store wi-fi, and sign up to loyalty schemes, grocers become privy to a wealth of shopper data, from consumers' location to their favourite cereal. In the past, this data was limited. With the launch of the Tesco Clubcard, for example, we were only able to track name, age and location, so when we wanted to send promotions for our meat line to loyal customers, they went to vegetarian consumers as well. It was then a case of tidying up our databases, manually updating profiles with 'vegetarian' or 'gluten-free' to tailor our communications as quickly as possible. This was a learning curve and shows the importance, not just of collecting more insightful data but knowing what information is absolutely crucial to winning customer loyalty.

Second: new-age workers. This group of employees, in sharp growth, can discover patterns through data analytics, therefore gaining crucial insights into customer behaviour. However, these staff are often pigeonholed in the online world, where they work with single-channel dashboards but don't have the opportunity to apply these skills offline.

Digital leaders need to manage this new-age workforce, spreading out analytical skills across physical and digital channels for real-time, cross-channel customer analysis. Without the bridging of the two worlds, the bricks & mortar store will become a black hole for missed opportunities.

Third: stay close to the consumer. It isn't enough for retailers to simply know retail or know the brand - consumer experience is key. For example, in the Christmas period, Waitrose analysed loyalty data from the MyWaitrose card to see who had bought a turkey there the year before and offered a 20% discount to those shoppers to incentivise them to do it again. In the digital age, there's no longer any excuse for offering a generic customer experience. Grocers need someone at the helm who is at the heart of consumer behaviour.

Finally: adapt to change. In the past, the key retail relationship was the one built around the shopping till, between the customer and shopkeeper.

Today, consumers communicate with brands through multiple channels, and the smartphone now replicates face time at the till. Businesses must now look to this channel to replicate the personalised service of the past. Several grocers are now rolling out store apps to encourage shoppers to use their smartphone as they walk round the aisles, for example the Asda App and Sainsbury's SmartShop.

Tapping into the smartphone in the store is a key growth area in the digital grocery world and one leaders need to get on board with starting now. Businesses are tapping into the smartphone when it comes to music, messaging, photo sharing and banking - why not the store?


Tim Mason is CEO of Eagle Eye