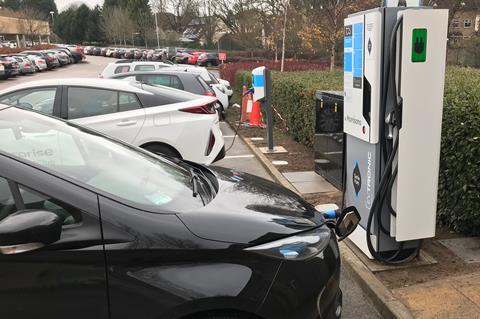 Morrisons is to roll out a new network of electric vehicle charging points across its UK stores.

The retailer today announced a deal with ChargePoint Services, owner of the GeniePoint Network, to provide technology able to charge electric vehicles within 20 minutes.

The first GeniePoint Network chargers will be up and running by the end of next month, with 100 expected to be installed by the end of 2019.

"Customers have told us that they want popular and useful services in our stores and we are continuing to listen and respond to that feedback," said Morrisons senior buying manager for fuel and services, Andrew Ball.

"We recently passed a landmark having introduced over 1,000 new and diverse service points to our stores including parcel collection, holiday money, barbers, car buying and clothes recycling.

"We are pleased to be working with ChargePoint Services to introduce the GeniePoint Network electric car chargers to this family of services".

The GeniePoint Network is free to join and there is no monthly fee, with drivers paying for what they use. Drivers can register at www.geniepoint.co.uk.

Alex Bamberg, managing director of ChargePoint Services, said: "We are very pleased to be working with Morrisons, an organisation that is putting into practice its publicised sustainability and customer service strategies.

"By offering another useful local service, customers are provided with choice for grocery, café and comfort stops, and green vehicle refuelling.

"Whether they are local residents or a longer distance traveller, Morrisons are supporting drivers making the change to clean transport technology."

The move comes as retailers increasingly pave the way for a switch to electric vehicles.

In November, Tesco announced it was joining forces with Volkswagen to announce the development of the UK's biggest retail electric vehicle charging network, which will see 2,400 charging bays rolled out across 600 Tesco Extra and superstores within the next three years.