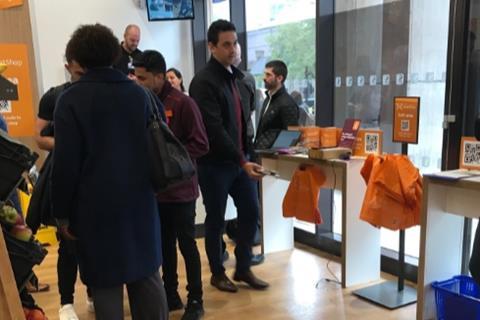 Sainsbury's first till-free shop was far from queue-free this week as customers waited at the only point in the store accepting card or cash payments.

The 'mobile only' store in London's Holborn, which opened on Monday (29 April), requires customers to scan as they shop and pay automatically using Sainsbury's Smartshop app.

The check-out free system is already in place in eight other London Sainsbury's Locals but the new branch is the first to do away with checkouts altogether, leaving a single help desk as the only option to pay by card or cash.

The queue at the desk was constantly around eight to 10 deep when The Grocer visited the store on Wednesday.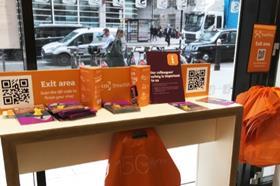 Meanwhile, staff were kept busy with queries about the Smartshop app from other customers, many of whom appeared to be experiencing difficulties using it on their Android phones. One woman with an Android phone had to return to the store after realising she had inadvertently paid twice.

A Sainsbury's spokeswoman acknowledged there had been problems. "The issue with the app only affected Android customers for a brief period and has now been resolved," she said on Thursday.

To shop, customers (who must have Nectar cards) must first download the Smart Shop app, while they also need Apple Pay or Google Pay. Customers can pay in the app anywhere in the store and are then expected to scan a QR code on a store sign as confirmation.

The emphasis at the Holborn store is on food to go and food for tonight. The only items of personal care were hand sanitiser and pocket sized tissues, while there were no cleaning products or newspapers and magazines. Age-restricted products were also absent, though this store never sold tobacco.