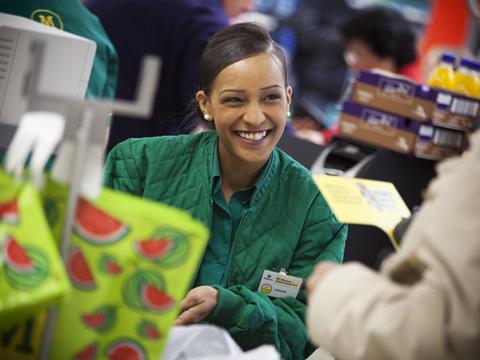 Morrisons in Ty Glas, Cardiff wins the Grocer 33 with 71 points this week. It dropped points on availability as six items were not stocked, but the "fairly busy" store looked "clean and well ordered" with "ample" room to move around. Restocking of fresh produce was taking place, yet the area was "well stocked" on the whole. Our shopper found all the staff "friendly and helpful".

Following closely was Sainsbury's East Kilbride, which was "busy but spacious". Our shopper was "disappointed to see so many items wrapped in unnecessary plastic" in the fresh section. Staff were "very helpful and well presented" but the checkout assistant "did not speak at all".

Asda in Milton Keynes was "very large" but "easy to navigate". However, the entrance to the store was "dark and busy". Staff were either "scattered about or in groups talking" but the employees our shopper approached were "helpful" and "friendly".

Waitrose in Horsham was "clean and attractive" with a "modern, upbeat vibe". Employees were "friendly and polite" and "gave a smile" but when our shopper asked for an item he could not locate he was directed to the wrong aisle.

Tesco in Banbridge delivered a "good" first impression but was "not well laid out", which was "off-putting" to our shopper who found that "a lot of products were hard to find or just in random places". Shop floor service was lacking, with almost all of the seven staff members approached simply pointing to locations rather than taking our shopper to find the item.