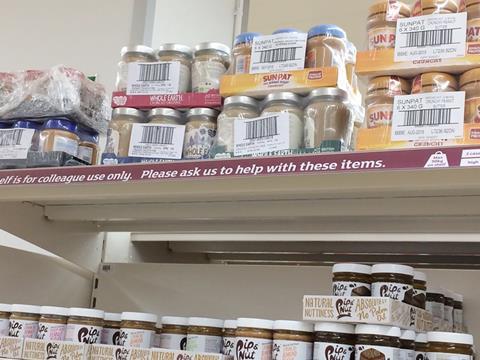 Sainsbury's has raised the bar still further on its market-leading availability and insists that a new in-store management structure introduced on Monday will not result in a fall in standards.

Sainsbury's scooped the Grocer Gold Awards for both availability and service for the sixth year in a row this week. The retailer's overall availability based on our 50 weekly Grocer 33 mystery shops came in at 97.4%. This represented an improvement of 0.8 percentage points, and was almost two percentage points higher than second placed Tesco, whose availability fell from 95.9% to 95.5%.

Sainsbury's and its proposed merger partner Asda were the only two of the five retailers we visit each week to have improved availability. Asda's availability climbed from 94.6% to 94.9%.

Waitrose was down one percentage point to 94.2%, while Morrisons saw the biggest fall - down 1.2 percentage points to 93.4%. This came despite the full bedding-in of its sales-based ordering system, which the retailer says is contributing to its continued sales growth.
Sainsbury's retail and operations director Simon Roberts said a switch to 'top stocking' products above shelves, ready for easy replenishment, had contributed to the improvements, particularly around Christmas.

"Top stocking also means we've got as much stock as possible on our shelves to give moments of certainty to customers, but it's not the only thing that had improved our availability," he explained.

"To get systemic and consistent availability levels, the whole organisation needs to be really joined up, and we're obsessive about maximising availability and reducing waste."

Sainsbury's claimed the Grocer 33 service award thanks to 19 store of the week victories throughout the year. This was seven more than Tesco, again in the runner-up spot.
However, Sainsbury's average customer service score fell from 73.8 out of 100 to 72.2. The total is based on car park standards, store layout, shop floor service, checkout experience and availability.

Sainsbury's average shop floor service fell from 16 out of 20 to 15.4, level-pegging with Tesco and Waitrose.

This week Sainsbury's introduced a new in-store management model that has significantly reduced the number of store leaders. The Grocer understands that the number of managers has more than halved in its supermarkets, including the position of HR manager.

However, the retailer insisted that the move did not mean a reduction in overall headcount and that its offer to shoppers would be improved.

"These changes will deliver cost savings, to be invested in our customer offer and in our colleagues who, in turn, will help us provide the very best shopping experience for our customers," said a Sainsbury's spokesman.

"This is a positive move and was not about reducing staff headcount."