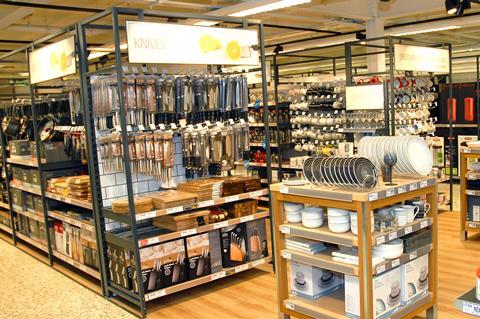 Some of the UK's biggest high street names have been named and shamed for illegally selling knives to children.

Tests by trading standards departments in England and Wales carried out between 1 April last year and 31 March 2019 identified Tesco, Asda, Poundland and Home Bargains among the culprits, along with the independent sector.

Young people under 18 carried out 2,231 test purchases on behalf of National Trading Standards, which found retailers failed to prevent the sale of a knife to a child on 15% of occasions.

Poundland, Home Bargains, Asda and Tesco sold knives to children at least 15 times.

A further 100 online test purchases resulted in sales of a knife on 41 occasions, National Trading Standards said.

The sale of knives, blades, axes or razor blades to anyone under 18 is illegal under the Criminal Justice Act 1988 as amended by the Offensive Weapons Act 1996.

Tesco, Asda and Poundland are also signatories to a voluntary agreement on age-restricted sales, including verification checks and promoting this fact in stores.

The agreement requires knives to be displayed and packaged securely to minimise risk, as well as ongoing training for staff.
Lord Toby Harris, chair of National Trading Standards, said restricting the sale of knives to children was difficult for retailers, especially those with large number of stores, staff and delivery partners. Many retailers were working "incredibly hard" to train staff and introduce "robust" procedures to stem the flow of knives to children, he added.

"But let's be clear - it's illegal to sell a knife to a child. Our tests show that it's still too easy for a child to buy a knife in store or online. We know that young people are being cautioned and convicted for knife crime offences, and as such I urge all retailers to do more."

Trading Standards would continue to promote best practice, advising businesses, monitoring retailers' activity and taking "proportionate" enforcement action, said Harris.

Kit Malthouse, minister for policing, crime and the fire service, said he was "deeply concerned" to see some retailers were breaking the law and he expected them to take urgent action to stop young people from getting hold of knives.

"Our Offensive Weapons Act will also help stop knives and weapons making their way on to our streets and being used to carry out appalling attacks."

Tesco UK & Ireland CEO Jason Tarry said: "Tesco takes the safety of our colleagues, customers, and the communities we serve very seriously, and we have made significant changes to our approach to displaying and selling knives, without taking choice away from customers, including a new two-stage age verification process and removing knives from display on the shop floor."

An Asda spokesman said: "Whilst we are clearly disappointed with the results from a small number of cases between April 2018 and March 2019, we would like to reassure customers that we have since provided updated training for colleagues and have clear Challenge 25 policies in place to ensure we meet all our responsibilities as a retailer."

A Poundland spokesman pointed out that it completely removed kitchen knives from all its 850 UK & Ireland stores last year.

"We would urge other retailers to follow our lead and remove kitchen knives from high street stores."

Home Bargains did not provide a comment.