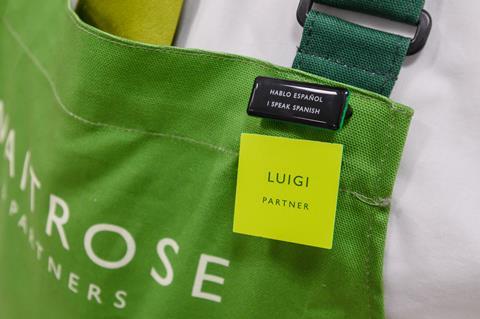 The John Lewis Partnership is trialling a scheme to help customers identify Waitrose and John Lewis staff that speak foreign languages.

JLP said the initiative was aimed at giving customers from different backgrounds the opportunity to speak to employees in their native tongues.

The scheme will launch with an initial 20 badges to be worn by staff, including French, Spanish, Polish, Hindi, Punjabi and sign language, with more languages set to be added depending on demand from employees and customers.

The initiative has initially launch in 10 Waitrose stores and seven John Lewis sites this month, before rolling out more widely in the future.

"The UK is made up of a wealth of different languages and cultures and we want to celebrate that diversity by offering an even more tailored level of customer service," said Katie Papakonstantinou, head of product services at the John Lewis Partnership.

"We want everyone to feel at home in our shops and this is a great way to ensure those who speak a different language feel even more welcome in our shops."

The language badges launched for the trial have been selected from ONS census data, Visit Britain's top 10 foreign visitors into the UK data and a pulse survey of Oxford Street, Stratford and central London Waitrose branches.

The full list of language badges is: Urdu, Arabic, French, Mandarin, Spanish, German, Italian, Hindi, Polish, Punjabi, Bengali, Gujarati, Cantonese, Portuguese, Dutch, Russian, sign language, Hebrew, Tamil and Filipino.

Welsh is not included as a Welsh speaking badge is already available to staff in Wales.