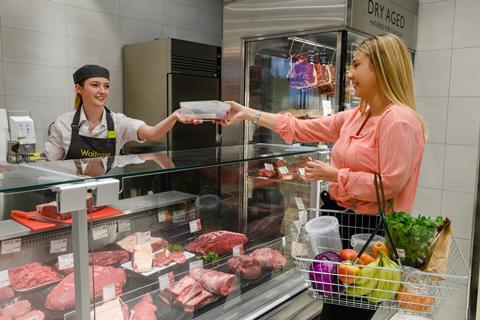 Waitrose has reaffirmed its commitment to keeping its counter service open, just days after rival Sainsbury's confirmed plans to shut them permanently.
Waitrose said this week that it will also reintroduce items stocked at its meat and fish counters to its online range from early 2021. The upmarket grocer has kept its in-store counters open over the course of the coronavirus pandemic but has temporarily removed the services from its online offer.
Should the move prove successful, it said it would add its deli and cheese counters.
The retailer also said it was continuing to add to the ranges available on its counters as well as ramping up promotional activity. It had added more than 30 new lines since April and will add new cheese, meat and deli lines in time for Christmas.
This month Waitrose is running a one-third off beef roasting joint deal, while in December it will offer complimentary Waitrose No 1 range biscuits for shoppers who spend at least £15 at its in-store cheese counters.
"Waitrose is renowned for its service counters and they remain a key reason why many people shop with us. In light of increased demand for online this year, there is now a huge opportunity for us to offer our counter range on Waitrose.com and we're excited to relaunch it at the beginning of next year," said Waitrose director of category proposition Jackie Wharton.
"Not only do our counters offer the freshest produce available on the market, they provide something special, personalised and more sustainable. And having taken the decision to keep our counters open broadly throughout this pandemic and thanks to support from our customers, they are also helping to sustain many of our smallest British suppliers, who otherwise would not have had a route to market this year."
Last week Sainsbury's said it would permanently close its in-store service counters owing to "reduced consumer demand." Its move echoes that of Tesco, which announced in January 2019 that it was shutting down counters in 100 large stores.