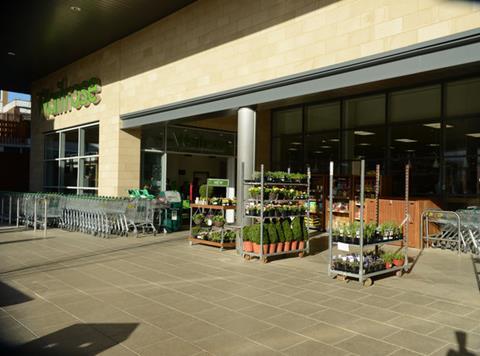 Sunday lunch. The morning rush is over. But trade is still brisk. It didn't faze the new Egham branch of Waitrose. Despite a few unavailable items it was a "quick and easy shop", shop floor staff gave "excellent" service, the checkout assistant was friendly, there was no queue and scanning was fast.

Tesco Quedgeley was "grubby and poorly maintained" from the front, but once inside it was "bright and spacious". Presentation of products was "excellent". Staff were friendly but didn't go out of their way to check stock and were sometimes hard to find. Availability was one of the best this week.

Sainsbury's Norwich was "very busy" and had narrow aisles. Some gaps were seen on shelves and when help was required it seemed the store was short-staffed as the security guard was asked to help get a product down from a high shelf by a colleague. There was a small queue at the checkout but scanning took a very long time.

A number of trolleys at Morrisons Camden wouldn't accept a £1 coin. In store, offers were being promoted on fruit but lots of unmanned crates and restocking trollies got in the way. The layout of the store was "odd" with similar products in different places; staff advised where to find products instead of showing where they were.

Asda Leyton Mills was last. Freezer cabinets were bare in some areas and stock was also low in the fruit & veg section. Staff presence was "variable", while at the checkout there was an extremely long queue. The assistant didn't acknowledge our shopper as she was too busy chatting to a colleague.