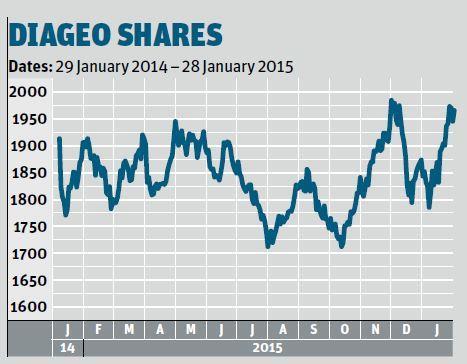 Fittingly for a company whose products often wind up in cocktails, Diageo's first-half results on Thursday were thoroughly mixed.

The spirits giant failed to hit market sales expectations of £6bn (falling just shy with a 0.1% decline to £5.9bn) and it suffered a dramatic slowdown in Asia Pacific as volumes collapsed in China partly due to a government crackdown against spending by officials. However, investors saw the bright side of results that CEO Ivan Menezes insisted were "solid," sending the shares 2.2% higher to over 2,000p on Thursday morning to record a new 52-week high.

The City took heart from sales which, although still slowing in North America and Europe, showed distinct improvement in the second quarter. Overall second-quarter net sales rose by 0.7% (helped by 9.4% growth in Africa) - up from a 1.5% net sales decline in the first quarter.

Charles Stanley said the results were "weak" and "towards the lower end of expectations." Nonetheless, the broker backed the company to rediscover its verve as global growth returns.

There was a far less benevolent analysis of another key grocery player on Wednesday as Bernstein's Bruno Monteyne argued "in current shape, the UK does not need Morrisons." Shares have rocketed since the news of CEO Dalton Philips' departure, but Monteyne argues the retailer's problems run far deeper. "If this is a market of winners and losers, the stock market thinks Morrisons is on the right side of the divide. Reality will soon kick in… The appointment of the new CEO will be catalyst for investors realising how big the challenge is." The supermarket has recently been trading at its highest level since May 2014, touching 200p, but Monteyne put a price target of 140p on the stock - suggesting a 30% plunge from Wednesday's opening price. The retailer's shares subsequently crashed 6.4% to end the day at 185.8p and trended down on Thursday morning. Tesco and Sainsbury's also slipped this week: Tesco by 3.7% since Monday to 226.2p, and Sainsbury's by 2% to 263p.