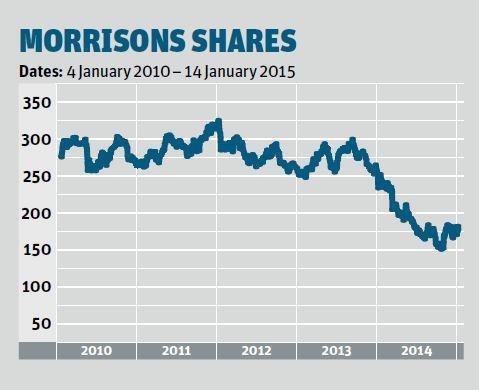 Deposed Morrisons CEO Dalton Philips will probably conclude Tuesday was not one of his best days. Not only was he axed as Morrisons boss as the retailer revealed its Christmas trading figures, but the City rather cruelly reacted to his departure by immediately sending shares 6% higher.

Morrisons' Christmas trading was widely dubbed the worst of the major supermarkets' - like-for-like sales (excluding fuel) over the six weeks to 4 January were 3.1% down compared with a 1.7% third-quarter sales decline at Sainsbury's and a 1.2% like-for-like Christmas decline at Tesco. However, the sales drop was better than the 3.8% decline predicted by analysts, and Kantar Worldpanel data suggested Morrisons' grocery sales had edged up by 0.7% in the four weeks to 5 January.

Bernstein analyst Bruno Monteyne commented "companies don't normally stick to guidance, beat consensus and replace CEOs at the same time" but concluded: "With the easiest comps last year and the longest track on its "new strategy," Morrisons still underperforms materially compared with its peers."

Morrisons' initial share price jump dissipated through Tuesday afternoon and Wednesday, but it was trading back at 188p by Thursday lunchtime - 6.6% higher than Monday's closing price and hovering at its highest level since last June. Tesco also continued to enjoy positive momentum. Shares rose to 217p by Thursday, up more than 21% since its trading update last Thursday.

Elsewhere, Greggs had climbed another 11.5% by Thursday following its Tuesday update, taking its share price leap to 47% since October last year. The market was less receptive to the third-quarter results of Irish cider maker C&C Group on Wednesday. The Magners maker saw its share price plunge by 9.5% during the day to €3.40 after it cut its profits forecast and said its third-quarter trading was below expectations. Cider volumes collapsed by 9.8% in England and Wales, and net revenues in the region plunged by 18.2%.