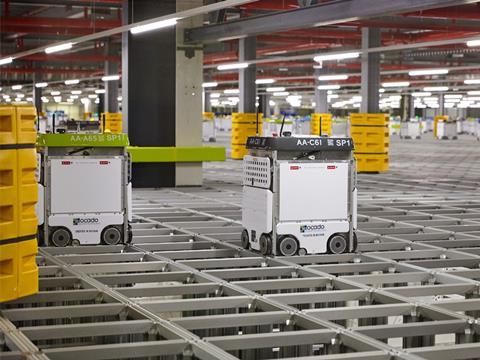 Ocado boss Tim Steiner hailed the company's "18-year overnight success" on Tuesday, but it was another overnight event that rocked the market this week.
Following an initial share price wobble after revealing the scale of its £44.9m annual losses, the stock was soon back on the way up with the market reassured over UK retail growth of 12%, confident guidance over the rollout of its numerous international partnerships and the announcement of a new one-hour delivery service.
However, the results were soon overtaken by other events as news of an overnight fire at its key UK customer fulfilment centre in Andover broke on the same day. Investors were calmed by the initial reassurance the fire was under control, but the company's shares eventually took a hit as the scale of the incident became clear.
Ocado ended Tuesday up 4.2% to 1,034p, but had slumped back to 877.2p by Thursday morning, falling 6.3% on Wednesday and a further 9.9% on Thursday after the company detailed the "substantial damage" the fire had caused.
The Andover site processes around 10% of Ocado's capacity and the damage at the site will reduce sales growth until capacity can be shifted to other CFCs.
Ocado's investment case is not predicated on UK retail growth, meaning the market was able to shrug off the initial fire reports, but the incident could point to a deeper safety problem with the Ocado CFC concept.
Hargreaves Lansdown analyst Laith Khalaf explained: "A large part of Ocado's market value lies in its ability to license out its cutting edge systems to supermarkets across the globe. It therefore needs to provide reassurance this is an isolated incident."
Bernstein analyst Bruno Monteyne added: "For those investors who mainly value Ocado as a technology business, this 10% dent in the near term, should not make a huge difference… What is totally unclear to us at this stage is whether the cause of the fire (unknown right now) has any implications for the technology platform itself."
Broker Peel Hunt cut its price target for the stock from 1,700p to 1,000p though it insisted: "Our core thesis licencing the technology to food retailers around the world, has not changed."
Meanwhile, Cranswick shares slumped to a two-year low of 2,340p on Thursday after issuing a profits warning due to weak pig prices and costs related to its new poultry factory. Third quarter like-for-like sales fell 2% compared to 1.1% growth in the first half, while it guided towards lower margins next year.