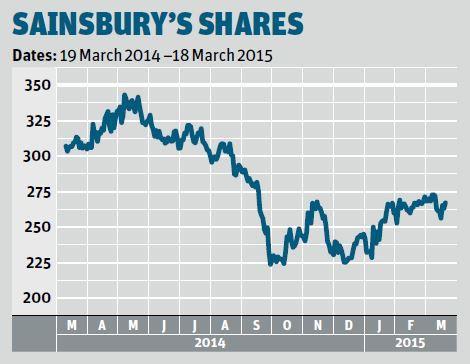 Sainsbury's shares received a boost this week after the supermarket outperformed the City's rather low fourth-quarter sales expectations.

The market had been steeling itself for Sainsbury's to report a 3%-plus like-for-like sales slump, meaning its 1.9% fall was greeted with a sigh of relief that sent the supermarket's shares up by 4.7% from Monday's opening to 270.8p.

The supermarket jumped by more than 2% in the opening minutes of trading following its sales update on Tuesday, but the shares slid to close slightly down as the results did little to ease fears Sainsbury's is struggling to maintain its recent outperformance within the troubled sector.

Analysts at Jefferies suggested it was now looking like "the most vulnerable UK grocer", commenting: "Sainsbury's operational and financial leverage continue to make the group particularly susceptible to protracted levels of LFL and gross margin headwinds". However, Bernstein was more upbeat, saying the 1.9% like-for-like fall was a "solid number in an industry with 1.6% deflation and extra space still coming on". The broker added: "With volume now returning to Sainsbury's and the market as a whole, it can continue to keep margins healthy."

The government's "radical" review of business rates announced on Monday sent the sector's shares higher. Among those benefiting from it -and the potential growth of consumer spending power from the Budget - were Tesco (up 4.4% since Monday's opening to 243.3p), Morrisons (up 1.1% to 205.5p) and M&S (up 5.4% to 520p).

Drinks giant Diageo was also one of the big winners from the Budget. The Guinness owner registered a 2.3% gain to 1,953p as George Osborne announced another penny off a pint - for the third successive year - and cut spirits and cider duty by 2%. Shares in Imperial Tobacco and British American Tobacco also spiked as there were no changes to tobacco duty, but fell back on Thursday after US billionaires Michael Bloomberg and Bill Gates pledged to help smaller countries in their quest to regulate tobacco sales.