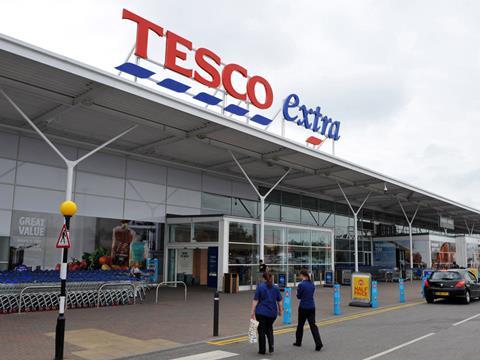 "Super Thursday" proved anything but super for the grocers this week after Tesco (TSCO) and Marks & Spencer (MKS) both undershot City expectations.
In fairness to Tesco those expectations were fairly lofty after Tuesday's market share data showed it significantly outperformance its big four contemporaries over the Christmas period. The supermarket's 2.3% third quarter like-for-like growth in the UK and Ireland and 3.4% growth in like for like food sales over Christmas appeared solid enough. However, ongoing weakness in general merchandise and lost tobacco sales following the collapse of Palmer & Harvey dragged festive like-for-likes back to just 2% growth – well under consensus estimates of 2.8%.
Tesco's shares fell back 4.1% on Thursday morning to 203.2p after what SogGen called a "disappointing Christmas… despite easy comps." Broker Jefferies was rather more charitable, greeting a "solid" update, but it warned: "The key message today is a slowing rate of UK volume gains… More generally the margin rebuild has been relatively modest in recent semesters in the UK."
A more upbeat Bernstein pointed out that the impact of P&H pulled back like-for-like growth by 0.5 percentage points and that adding back this drag would like Christmas like-for-likes of 2.4% - higher than the well-received Morrisons retail growth of 2.1%. "This is the 4th strong Christmas trading in a row for Dave Lewis," the broker concluded.
There were fewer signs of encouragement for M&S, which plunged 6.3% on Thursday to 303.5p after its own trading update showed weakening sales trends in both food and general merchandise. Total food revenues did increase by 3.6% to £1.7bn in the 13 weeks to 30 December, helped by new store openings, but this represented a like-for-like sales fall of 0.4% while total group sales for the quarter slipped 0.1% to £3.2bn as the struggling clothing & home division reported a 2.3% sales drop to £1.2bn.
Liberum commented: "Q3 is a slight beat, but it should be noted that this is against very modest expectations… The success of the turnaround strategy remains uncertain, with the backdrop of significant structural pressures persisting". Richard Lim of Retail Economics added: "These disappointing results suggest all is not well on the high street. M&S continues to struggle with the sheer pace of structural change reshaping the industry."
The week had been more upbeat for the grocers before Thursday, with Morrisons (MRW) jumping 2.9% to 233.4p on Tuesday after its 2.8% jump in group like-for-like sales over the ten weeks to 7 January were well ahead of City expectations. Sainsbury's (SBRY) rose 2.2% on Wednesday to 253.9p after lifting its annual profit expectations thanks to higher synergies coming from its Argos acquisition, despite a 1.4% slump in third quarter general merchandise sales dragging back its 2.3% boost to grocery sales.
Elsewhere, Majestic Wine (WINE) fell back on Tuesday despite putting in a solid Christmas performance. The group reported a 3.2% sales rise over the 10 weeks to 1 January as retail sales rose 1.2% and Naked Wines returned to strong growth. However, the shares slipped back 1.1% to 454p given retail sales had jumped by 6.2% in the previous festive period and commercial sales continue to slide.
Peel Hunt backed the progress the group continues to make, commenting: "Majestic's Christmas trading statement is solid in the extreme but such an adjective probably doesn't do it justice given the tough prevailing conditions… All journeys start with small steps and the company is clearly moving forward."