Fancy some crisps made of egg? Yes, you read that correctly. Egg white crisps are now a thing. Chirps – a high protein snack made from egg whites – is the latest innovation from Two Chicks to hit the bagged snacks category.
This article is part of our Bagged Snacks Digital Feature 2015.
To the average consumer used to potato or maize-based crisps, this might seem far-fetched but Chirps is part of an emerging sub-category intent on helping consumers get their protein fix.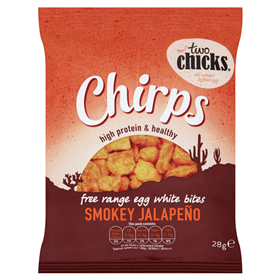 Eggy crisps are undeniably unusual, but there are a number of other players on the high-protein scene such as The Protein Works and Novo. But with protein products generally associated with bodybuilders and gym bunnies, is there really mainstream potential for protein crisps? If so, how can these niche brands realise this?
Protein is the current buzzword for health fanatics partly fuelled by the rise of the paleo diet. This has contributed to the soar in jerky and biltong sales, alongside other bagged meat snacks which have seen a 12.8% increase in value to £121.7m on volumes up 14.5% [IRI 52 w/e 6 December 2014]. Jerky brand Wild West has seen similarly impressive figures with an 18.1% increase in value on volumes up 3.4%, meaning consumers are willing to pay a premium for the snack.
And there's still plenty more room for growth believes James Newitt, managing director at The Jerky Group – owner of Wild West. "If you look at the way beef jerky is positioned in America it's available in convenience stores, forecourts and major grocery stores in the US. The jerky category in the US is a $2bn category and there's nothing to say it couldn't be represent a more significant market over here," he adds.
Getting protein crisps into supermarkets and alongside other bagged snacks will help unlock their appeal, believes Andrew Coulson, managing director at Novo – the company behind Protein Bites. "We are not going to get an average person to pick up a masculine looking protein bar or to spend £40-50 on a tub of protein powder," he says. "Therefore we have got to look at food in formats that the major retailers and customers understand. By doing it this way consumers don't have to change their buying habits or go outside of their comfort zones."
Enter Protein Bites: think grown up Quavers made from soya and whey protein isolates and whey protein concentrate. They average 146 calories a bag and have 20g of protein in. "The concept behind the product is that most men and women, primarily women, look for so-called healthy snacks and crisps but they aren't that healthy – they just have a little bit less fat in and no nutritional value. That was our main focus," Coulson explains.
"Gym goers are only a very small percentage of the market. There's a huge opportunity not just for companies to meet that demand but to also make people healthier," he adds.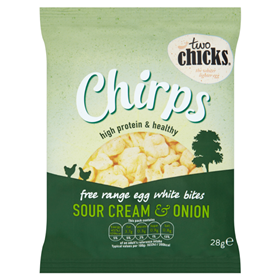 Encouraging consumers to put down their favourite bagged snacks in favour of a healthier, more expensive alternative could be tricky. The price tag comes with the added protein, explains Alla Ouvarova, Two Chicks co-founder and director. Chirps, which have 9g of protein per 28g bag, RSP at £1.49. Ouvarova believes this won't deter consumers looking for a high protein snack but gaining wider appeal requires different tactics. "It's a very busy category. We need to make sure we get some good positions on shelves and do promotions in-store," she says.
With listings expected imminently at Two Chicks HQ, the brand is working on spreading the word about Chirps with appearances set for the BBC Good Food Show as well as work on social media.
The traditionally masculine image of protein products can also be a turn off for the average consumer and it's something protein crisps will have to shed if they want to attract a mainstream audience.
Ultimately the success of any food comes down to taste something that protein-based products have historically struggled with, according to Nick Smith, co-founder and head of development for The Protein Works. But these barriers are being knocked down thanks to advances in manufacturing.
"In terms of the snacks we are making is we are trying to break down the preconception of a tough old protein bar that has been on the shelf for 12 months and bring it back to a high quality product with good taste and good texture that will appeal to a mainstream audience," he says.
The Protein Works plans to continue improving on this as a result of a six figure investment in a manufacturing facility at its Cheshire HQ. While the facility will manufacture a range of The Protein Works products – it also sells protein powders, bars and even popcorn – Smith believes there is potential in the new format as long as the taste is great. "The days of protein just being for the hard core gym bunnies are well and truly over. Now it is far more acceptable in the mainstream," he adds.
As healthier crisps continue to drive growth in the bagged snacks category, protein-based crisps could be the next stage in the evolution – they just have to get the taste and marketing right. As Novo's Coulson says: "It's an unstoppable trend and anybody who neglects that would be a fool."
Next up: Our top 10 global product launches