It pays to think outside the box (or bag, in this case). New flavours, healthier snacks and innovative formats have helped pile on the pounds for Britain's biggest snack brands.
The standout performer is Pringles which, thanks in part to NPD Pringles Tortilla, added £21.5m to brand value [IRI 52 w/e 5 December 2015].
"Pringles keeps going from strength to strength, with sales of more than £200m over the past 52 weeks," says Alison O'Brien, Kellogg's commercial strategy director. "This year we're planning more on-pack initiatives, releasing exciting new flavours and targeting the massive national and international sports events that'll have everyone popping till they can't stop."
Part of Pringles' success was it tapped into the sharing market – the only format in growth [Nielsen 52 w/e 11 October 2015].
VALUE
VOLUME
£m
y-o-y%
kgs(m)
y-o-y%
Walkers Crisps
£513.6
-4.3
63.6
2.7
Own label
£472.2
0.2
67.0
0.9
Pringles
£210.6
11.4
26.4
11.1
Walkers Doritos
£180.2
4.2
25.2
7.7
Real McCoy's
£107.5
-2.5
12.3
-4.9
Hula Hoops
£93.9
8.0
10.7
2.5
Kettle Chips
£91.0
-3.5
9.9
6.5
Walkers Quavers
£88.0
-3.6
6.6
-3.9
Walkers Sensations Crisps
£80.8
-1.7
9.5
-3.3
Walkers Wotsits
£65.8
2.3
5.8
4.4
IRI 52 w/e 5 December 2015
PepsiCo also found this to be lucrative, launching Walkers MixUps and Doritos Roulette – two of the bestselling innovations of 2015.
"Specific snacking occasions have helped fuel growth for the sharing category with consumers enjoying a 'big night in', which has provided a huge sales opportunity for retailers, especially with 86% of households buying sharing packs at least once a month," says Thomas Barkholt, UK marketing director at PepsiCo.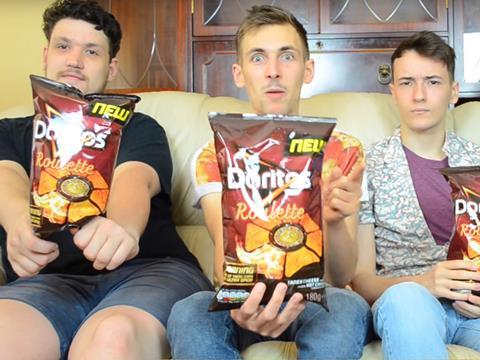 The trend towards sharing saw a £7.2m increase in Doritos sales, while MixUps added £19.1m to the market. Stablemate Walkers Crisps did not fare as well, losing £23m (4.3%) on volumes up 2.7% [IRI].
Hoping to turn things around, and utilise the sharing trend, it launched Walkers Tear 'n' Share, a unique bag that turns into a bowl. PespiCo is also looking closely at healthier alternatives to fried crisps, having launched Walkers Crackers at the end of 2015.
Competition in baked snacks is fierce though, with the likes of United Biscuits and Mondelez encroaching on bagged snacks space with NPD Jacobs Cracker Crisps and Ritz Crisp & Thin.
"Alongside continuing to innovate and invest in our snacking brands, we are adding value by attracting lost consumer occasions back to the category," says Sandra Ferreira, senior brand manager for Ritz. "The product is available in sharing and single bags, which meet both entertaining and on the go occasions. These are two key trends that will continue to be important throughout the coming year."
Lower-calorie versions of established brands are also helping to drive sales. For example, Hula Hoops Puft has helped drive growth for the KP Snacks brand, while Walkers Sunbites also enjoyed value and volume growth thanks to its health credentials. Kettle Chips, meanwhile, targeted consumers looking for authentic flavours but a lighter snack with Kettle Bites, which are available in Lentil Curls and Wholegrain Waves.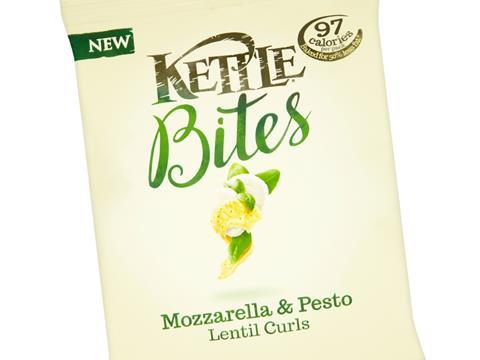 "Our consumer research has identified that consumers are looking for snacks that offer great taste, but also a lighter eat, for everyday snacking," says a spokeswoman for the brand. "The concept and products have researched exceptionally well with consumers, and extensive distribution is rolling out from now in both major multiples and Independent stores."
Kettle Chips suffered value losses of 3.5% as a result of heavy cuts in average price, which offset the growth in volume. However, the spokeswoman believes a strong Christmas period has helped push the brand back into value growth.
"Kettle is combining an effective promotional strategy aided by incremental growth from innovation. We are continuing to promote, and ran £1 promotions on our 150g sharing range in most of our major accounts during the busy Christmas period," she adds. "Success over the Christmas period was also helped by the new Kettle Chips Chef's Signature range, which added value growth of £300,000 to the category in the four weeks to 2 January."
Rival Walkers Sensations Crisps also suffered value losses of 1.7%, while Tyrrells secured 14.4% value growth.
In association with: