Sales of yoghurt are souring, while popcorn is flying. So why are Brits snacking less on certain kinds of popcorn?
One of our 10 Things You Need To Know About… Snacking
Popcorn is booming and yoghurt sales are going sour, right? That's certainly what the sales figures say: yoghurt is down 1% on volumes down 2.2% [Kantar Worldpanel 52 w/e 1 January 2017]; popcorn value sales are up a whopping 13.3%.
Yet research for The Grocer by Harris Interactive reveals that many consumers are actually eating more yoghurt as a snack, not less: 18% say they are snacking more on yoghurt than they did in the past. Only fruit & veg is growing more quickly. Equally surprising is our finding that 27% of consumers say they're snacking less on sweetened popcorn. What's going on?
Yoghurt's growth as a snack can in part be explained by the development of new, health and snack orientated products such as Arla Protein and Fuel10K Quark squeezy pouches. Products such as this are widening the appeal of yoghurt.
"Arla Protein has used disruptive category design cues and led the satiety and fuel wave seen across multiple food categories, as well as getting significant traction with male and sporty audiences," says Kate Waddell, insight & innovation director at Dragon Rouge.
The high number of consumers cutting down on sweetened popcorn is in part a consequence of growing awareness of problems associated with excess consumption of sugar. The development of a wider range of flavours, including savoury lines, is also a factor.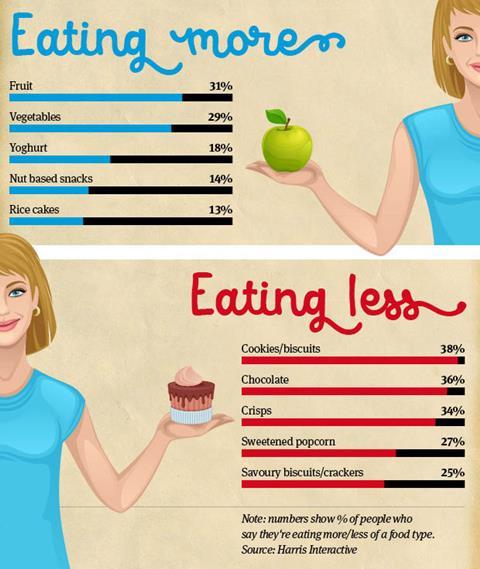 In partnership with

Previous article: Revealed: A new twist on snack sharing formats!
Next article: The great snack race: healthy lines & sharing bags sales rise