This article is part of our Soft Drinks Report 2015
Soft drinks companies are keen to be seen doing the right thing when it comes to sugar content as they face vicious attacks from campaign groups and the media alike. "We promote our drinks responsibly and lead with no or low sugar variants in our above-the-line advertising," says Ian Forshew, Britvic's GB commercial director for at home.
But they face a long, hard battle. 'Sugary drinks could age the body as much as smoking', screamed the Daily Mail in October last year – just one of the headlines covering the war that's being waged on sugar. The white stuff has been branded 'the new tobacco', with the amount in soft drinks such as carbonates and energy drinks often thrust into the spotlight as an example.
This unwanted attention is adding to the strain already felt by a category wrestling with the ongoing supermarket price war, deflation and fundamental changes in the way Brits are shopping. Overall soft drinks take home sales are down 0.9% on volumes down 0.4% [Kantar Worldpanel 52w/e 4 January 2015], with the biggest knock felt by lemonades and flavoured carbonates.
So with soft drinks a key battleground in the war on sugar, what does this mean for full sugar variants? And how are low and no sugar versions faring?
For many brands, low and no sugar soft drinks have been a saving grace. Take Pepsi Max, for example. It's generated an additional £16.5m for the brand and for the first time accounts for more than 50% of Pepsi's sales [IRI 52w/e 31January 2015].
Capitalising on its 'maximum taste, no sugar' message, Pepsi lead all consumer communication with Pepsi Max. It wasn't just traditional advertising either – augmented bus stops showed alien attacks, giant robots and tigers on the streets of London with viral content helping the brand climb the ranks on YouTube.
Meanwhile, Coke Zero added £6.9m to its value. But unlike Coke, Pepsi saw growth across its whole portfolio – including standard Pepsi which has 28g of sugar per 250ml.
Price certainly played a part in this. Paul Graham, GB general manager at Britvic, notes Pepsi's decision to maintain its level of pricing as a key strategy component. "We felt we had the ability to not pass on price increases and as a result our relative price has become more competitive so we did make gains over the long term and did well in the market," he says. Pepsi made £25.8m gains to be exact [IRI].
Top 10 carbonate brands
VALUE
VOLUME
£(m)
change %
litres (m)
change %
Coca-Cola
657.8
-4.5
578.5
-6.2
Diet Coke
447.5
-1.3
426.6
-0.9
Pepsi Max
212.1
8.5
258.8
6.9
Pepsi
126.1
3.3
161.3
0.3
Fanta
123.6
-1.1
99.6
-10.0
Coca-Cola Zero
94.5
7.9
83.6
2.8
Dr Pepper
93.7
-0.8
67.6
-6.3
Diet Pepsi
83.7
6.7
104.0
4.4
Irn Bru
79.1
4.2
79.7
2.9
Schweppes
68.0
-5.2
82.7
-9.6
Pepsi's 600ml bottles offer savings on Coke's 500ml and 375ml formats but an increase in price per litre thanks to the new sizes helped Coke.
Although still in decline (sales across its range are down £13.2m [IRI]), Britain's biggest brand is showing signs of improvement. "Last year we were off to a slow start but had a strong finish," says Coca-Cola Enterprises general manager Leendert den Hollander, adding that a strong summer, particularly during the World Cup, and a good Christmas helped Coke win back share. "It was a story of two halves. We were regaining share in the second half of the year."
Following a shake-up of its marketing and branding strategy – which sees all four sub-brands come under a single Coca-Cola umbrella – Coke is hoping for growth this year. The move is designed to help consumers understand the role of its low and no calorie products but Coke insists this doesn't have to be at the detriment of red Coke.
Coke could have a point. A poll for The Grocer by Harris Interactive found 34% of consumers don't think about the sugar content of soft drinks, suggesting there is still a place for full-sugar colas. Of course brands will ignore the health issue at their cost - it's significant that 13% of respondents avoid all sugar at all costs and there is increasing focus on the type of sugar in drinks. Forty two per cent say they avoid added sugar but believe naturally occurring sugar is fine.
This has opened the door for brands such as Little Miracles, which sells a range of organic tea and fruit juice blends. Kate Harding, Little Miracles international marketing manager, says sales have quadrupled in the past 12 months as distribution has increased.
"More retailers are making commitments to take calories out of the fixture. With consumers looking to cut their intake of calories this is a great opportunity for brands like us with the right product as the time is right now. Health is no longer a future trend or niche," she says.
Vivid is also taking advantage of consumer demand for natural sugar with its range of drinks featuring Matcha green tea from Japan, noting that Euromonitor research predicts the growth of naturally healthy ready to drink teas to be even stronger than energy drinks. Boots says the addition of a sugar-free variant helped the brand gain listings.
Bigger brands are muscling in on the action as well. Innocent is launching Innocent Bubbles – a carbonate made from spring water and fruit with only naturally occurring sugars (something it is keen to highlight on the pack).
A similar attitude is taken by consumers towards sweeteners. 21% of respondents to the Harris research avoid artificial sweeteners but only 7% avoid natural sweeteners as well. The acceptance of naturally occurring sweeteners is resulting in the increased use of sugar substitutes such as stevia.
Britivic's Forshew says: "We do recognise the shift in consumer preferences and we have responded by being the first soft drinks manufacturer to introduce stevia, a natural sweetener, to the UK soft drinks category with the launch of SoBe V Water, following shortly after with the introduction of Juicy drench with stevia."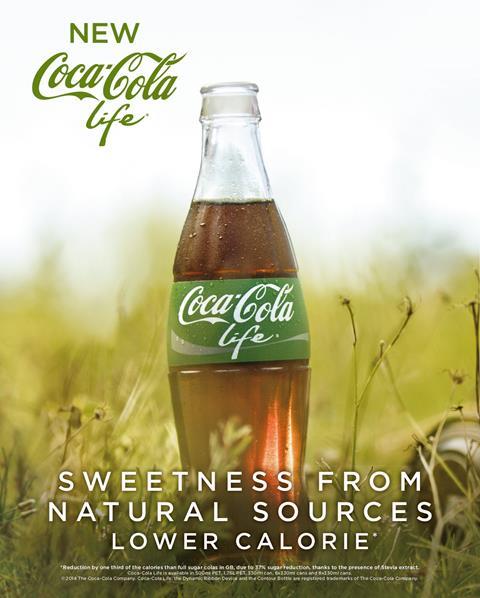 Coke Life is arguably the highest profile soft drink to contain stevia along with added sugar. Since its launch in August 2014, Coke Life has generated £16.1m [IRI].
Stevia couldn't save Sprite's falling sales though. The sweetener was added to the recipe in March 2013 to lower sugar content. Since then sales have nosedived. A further £11m was wiped off this year as volumes fell 25.3% [IRI]. Meanwhile growth for Sprite Zero was negligible at 1.1%.
Not that den Hollander thinks the addition of stevia, which critics have claimed can add a bitter note to drinks, is to blame for Sprite's less than spry performance. "The overall performance of the lemon and lime category is a bigger driver than perceptions of the taste of Sprite," he says, while signalling that further reformulations could be on the cards to reduce sugar. "Reformulation is clearly important but you have to find a balance and deliver the taste consumers expect."
Adult soft drinks brand Shloer has also taken advantage of stevia, using it in the Shloer Light range which launched in November 2014. "Shloer Light been very successful for us. We are very happy with the sales of it so far and one testament to that is it's now launching in to Waitrose," explains Amanda Grabham, marketing director at SHS Drinks who claims it hasn't hugely cannibalised sales from standard Shloer. "From our data it wouldn't be much more than 20% so we would be happy with that."
Using a natural sweetener was important for Shloer, says Grabham. "Our consumers didn't want the product artificially sweetened and they weren't willing to compromise that for the calories. For us, the launch of Stevia into the market and allowing us to have a naturally sourced sweetener meant that we could offer the consumer a lower calorie offering but we didn't have to compromise our no artificial message."
Lower calorie offerings are also playing a part in energy drinks, but not to the same extent as carbonates. "Based on growth and share figures, lower or reduced calorie propositions have begun to play a stronger part within the sports and energy category over the past two years. However, sales of full sugar variants are also experiencing growth and the total sports and energy category is in 3% growth," says Georgina Thomas, category director at Lucozade Ribena Suntory.
Lucozade Energy remains the bestselling product in the category having experienced 10.9% growth [IRI]. Lucozade Sport also saw impressive growth worth £21.2m.
Thomas believes it's important for the brand to offer full and reduced sugar options. She says: "In 2014 we expanded our reach with a new brand proposition, Lucozade Energy Reduced Sugar Cloudy Lemonade, to offer greater choice within the sports and energy drinks sector. We know that as consumers get older, sugar and health become more important and consumption of diet drinks increase."
However, she notes the challenge around educating consumers between the differences in products and their intended purposes, something Lucozade embraced with its Fuel to Rule campaign.
Meanwhile, Red Bull kicked off 2015 educating its consumers about the benefits of Red Bull Zero with marketing campaign Zero Excuses featuring the cartoons synonymous with the brand. The venture paid off, helping to add £6.4m in sales. Full sugar Red Bull – which has 11g of sugar per 100ml – still proved popular, gaining £12.6m [IRI] and Red Bull Sugar Free £3.2m.
Top 10 sports and energy drinks
VALUE
VOLUME
£(m)
change %
litres (m)
change %
Lucozade Energy
320.5
10.7
175.9
12.6
Red Bull
213.4
6.3
47.1
10.4
Lucozade Sport
84.6
33.4
54.6
9.1
Monster Energy
69.2
4.5
30.1
0.1
Relentless Origin
38.6
8.4
16.9
15.4
Red Bull Sugar Free
36.3
9.6
8.2
13.6
Lucozade Sport Body Fuel
28.9
-41.8
13.0
-43.1
Monster Ripper
24.1
7.6
10.6
15.0
Emerge Stimulation
19.5
20.5
15.1
24.3
Rockstar Xdurance
17.6
20.8
8.8
20.6
According to Red Bull's Gavin Lissimore, head of category marketing, sugar wasn't the key barrier to energy drink purchase. "We have conducted extensive research on the right consumer price for our products, which we identified as one of the key barriers to purchase of energy drinks, along with taste and health. As a result we have invested in PMP across the portfolio."
Flavours, low calorie products and NPD are expected to help drive growth in energy drinks in the future but Lissimore remains adamant that "consumers demand products that provide a benefit, so although sugar is a concern for some, the functionality remains the main purchase driver."
So far in 2015, the brand has increased its range of flavours with the introduction of Red Bull Tropical Edition, available in 250ml, 250ml £1.19 PMP and four can multipack. Tropical flavours feature heavily in NPD in soft drinks. Lucozade added a mango & passion fruit flavour to its Sport range while Monster's The Doctor hit the scene with a citrus twist earning £2.4m for Coca-Cola Enterprises, although it experienced growth across other products as well including, Monster Energy (4.5%), Monster Ripper (7.6%) and Monster Absolutely Zero (66.5%).
Rockstar believes sour flavours are in demand, having added Blue Raspberry to its SuperSours range. "Consumers love Rockstar because it doesn't define how an energy drink should taste – it's available in a wide variety of exciting flavours to offer plenty of choice," says Adrian Troy, head of marketing at Barr. As a result of its efforts, Rockstar Xdurance creeps into the top 10 sports and energy drinks with sales of £17.6m.
The Rockstar range was also expanded with the launch of Energy Waters. "We listened to energy drinks fans and there was a huge demand for a product that delivers a full energy hit, but feels more natural and lighter than traditional energy drinks," says Troy. "The products deliver a full hit of energy with high caffeine content from a natural source and a special vitamin blend, but have 50% less sugar and calories per 100ml than the 500ml standard Rockstar Energy cans."
While the war on sugar is unlikely to subside any time soon, the overarching message coming from industry is to give consumers the power to choose for themselves but to help them with this decision by providing them the information they need to make an informed decision. As Britvic's Graham says: "I think from a manufacturer and supplier point of view the challenge is to give choice and to educate."
In partnership with: