This article is part of our Soft Drinks Report 2015
There's a sea change happening in soft drinks. Sales of bottled water are booming as more and more shoppers leave sugary soft drinks behind. And the giants of the industry are following them with bottled water NPD. Meanwhile, the biggest players in bottled water have spotted an opportunity.
They're leveraging their natural brand credentials in new areas. In January, Danone Waters launched Volvic Touch of Fruit Sparkling, the first fizzy drink in the brand's history, and added two new flavours to its Juiced range of fruit juice and water blends. Meanwhile Nestlé Waters is enjoying booming sales of its premium San Pellegrino fruit crushes.
"Flavoured water seems to provide the perfect middle ground for someone who wants a healthier option to soft drinks or juices, yet feels bottled water is just too boring," says Jo Davies, CEO and founder of marketing agency Drink.
Flavoured still water is the best performing subcategory in bottled water with value sales up 16.6%, on volumes up 18.4% [Kantar Worldpanel 52 w/e 4 January 2015]. Flavoured sparkling is not far behind it with growth of 11.1% on volumes up 7.1%.
And when it comes to consumer perceptions, Volvic – whose Touch of Fruit NPD is sweetened with the natural plant extract stevia – is on to something by taking advantage of the idea that natural is better than artificial.
In a survey carried out exclusively for The Grocer by retail research agency Harris Interactive, 42% of Brits said they avoid added sugar when it comes to soft drinks, but think naturally occurring sugars are fine. A further 21% said they avoid artificial sweeteners.
But there's no getting away from the sugar content of some of these products. Volvic Juiced contains 6.3g of sugar per 100ml, and Coco-Cola Enterprises' Glaceau Vitaminwater range of fortified waters contains 3g per 100ml, having been reformulated with 30% less sugar in December 2012. San Pellegrino Limonata contains 10g per 100ml.
"Upon inspection it is clear that many flavoured waters are actually not as healthy as they appear," says Drink's Davies. "Consumers increasingly look at ingredient labels and it could mean many discover their 'healthier' alternative is in fact packed with the sugar they are trying to avoid."
Of course, sugar content is clearly labelled. "To help people make the most informed choice, we advertise in a responsible way and always make it clear Volvic Touch of Fruit Original and Volvic Juiced contain added sugar," says Danone Waters head of category development Christina Medford."Each bottle is also clearly labelled with ingredients and nutritional information, giving consumers all they need to make an informed choice."
Another example of how brands are looking to cash in on the bottled water boom and the backlash against sugar can be seen in the launch of Rockstar's new Energy Water in January. Brand owner Barr says the product gives energy drink shoppers a more natural alternative, offering 50% fewer calories and sugar than standard Rockstar, although it still contains 8.7g of sugar per 100ml - more than 30g per can.
"Rockstar Energy Waters are a combination of two of the fastest growing soft drinks categories – flavoured energy and flavoured water," says Adrian Troy, head of marketing at Barr."We're really confident that Rockstar Energy Water will fuel major category growth in 2015."
But not all the category's NPD contains sugar or artificial sweeteners. Glaceau Vitaminwater Multi V Zero, launched in March and sweetened with stevia, contains no sugar and replaces Glaceau Vitaminwater Multi V, which contained 130 calories, or 32g of sugar per bottle.
Water, reinvented: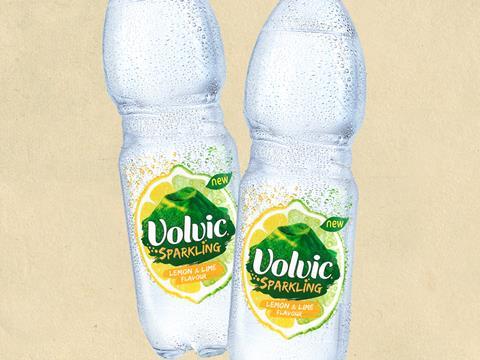 Volvic Touch of Fruit Sparkling
Launched: January 2015
Stevia is the key sweetener in Volvic's first sparkling drink. Touch of Fruit Sparkling (rsp: 99p/920ml) contains 19 calories, or 4.8g of sugar, per 100ml. The NPD comes in three flavours - lemon & lime, strawberry & raspberry and mango & passionfruit - and Danone Waters reckons the variant could be worth £25m within two years.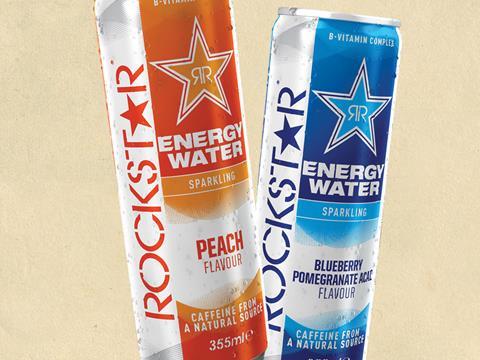 Rockstar Energy Water
Launched: January 2015
Created to give energy drink shoppers a more natural and lighter alternative. With 8.7g of sugar per 100ml, the water has 50% less sugar than standard Rockstar but still contains more than 30g of sugar per can. In two flavours: blueberry, pomegranate & acai and peach. Barr advises retailers display the NPD between standard energy drinks and vitamin waters. Rsp: £1.69/355ml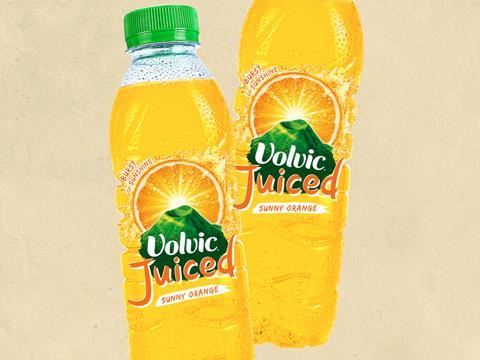 Volvic Juiced
Launched: January 2015
The latest addition to the Volvic Juiced range follows the well-trodden path of mixing fruit juice and spring water to appeal to drinkers looking for a less sugary alternative to juice. Still, 500ml contains 40g of sugar. Volvic Juiced Sunny Orange (rsp: £1/500ml) is joined by a lemonade flavour and both also come in one litre bottles.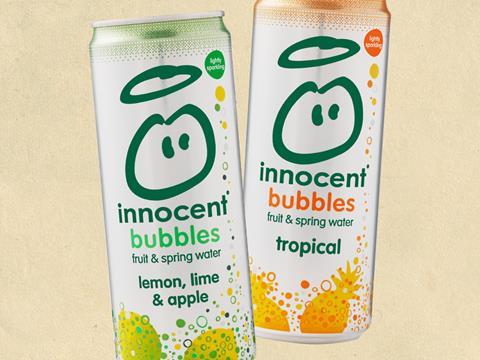 Innocent Bubbles
Launched: March 2015
It was only a matter of time before Innocent sat up and took notice of the rise in flavoured water. Innocent Bubbles is billed as a lightly sparkling blend of fruit juice and sparkling water and 'nothing else'. The product's 5.4g of sugar per 100ml makes it a less sugary alternative to juice. Available in tropical and lemon, lime & apple flavours (rsp: £1.49/slimline 330ml can)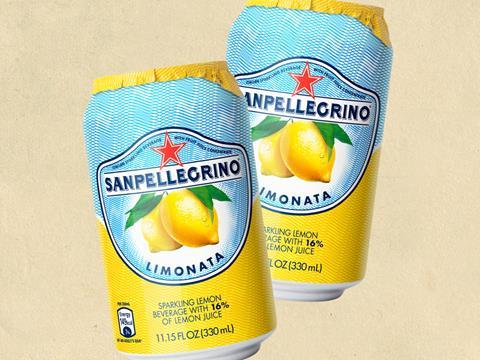 San Pellegrino Limonata
Launched: January 2006
Nestlé Water's upmarket San Pellegrino Limonata (rsp: 65p/330ml) has been battered by the press for its high sugar content (10g/100ml), which means each 330ml can makes up more than a third of an adult's guideline daily amount of sugar. Nestlé says it's taken note, working to reduce sugar content in the brand's Limonata and Aranciata variants by 10%.