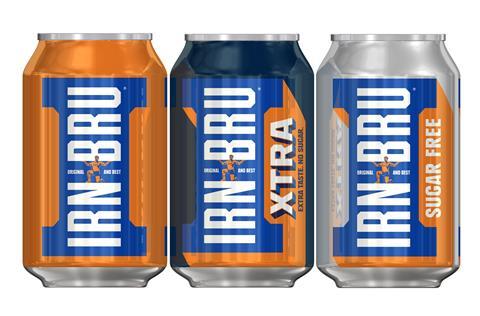 AG Barr will slash sugar in Scottish soft drink Irn-Bru as part of a wider reduction effort across its owned brands this year.

More than 90% of AG Barr's owned soft drink portfolio - which includes Rubicon and Rockstar Energy - would contain less than 5g of sugar per 100ml by autumn 2017, the manufacturer announced today.

Irn-Bru would remain a sugary drink with its same "unique great taste", it added, but would contain lower sugar levels to appeal to the "vast majority" of consumers trying to cut back on it.

The reformulation means Irn-Bru will come in below the government's sugar tax levy, set to be implemented in April 2018. Previously it had faced the highest band of the tax, applied to drinks that contain 8g or more per 100 millilitres.

AG Barr worked "very hard" for a "very long time" to reduce sugar in the iconic Scottish drink without compromising on taste, marketing director Adrian Troy told The Grocer.

"Irn-Bru has a very distinctive taste and our consumers always tell us there is nothing quite like it, and we are confident we have achieved a really good match on a product taste, just with less sugar," Troy added.
"It is still a sugary drink, and it is made with the same flavour essence that has been there since the brand was launched in 1901."

The reformulation of the standard Irn-Bru follows AG Barr's launch of Irn-Bru Extra - a no-sugar drink with "extra" flavour - in July last year, to join the existing Irn-Bru No Sugar variant.

Across its wider branded portfolio, AG Barr's sugar reduction programme would combine both reformulation and no-sugar innovation, Troy said.

The manufacturer launched a new Rockstar Energy no-sugar range called Rockstar Revolt at the end of January, and has already revealed plans to cut sugar across its Rubicon Sparkling range in the spring. Last May, AG Barr unveiled the low-calorie Rubicon Spring range, its debut in the flavoured water category. It was followed four months later by Rubicon Light & Fruity, a lineup of low-sugar fruit juice.

Sugar tax implications

The supplier stressed its sugar reduction programme was a response to changing customer preferences, but SocGen analyst Laurence Whyatt said it had the "important consequence" that the company would largely avoid the sugar tax, which currently has a starting point of 5g of sugar per 100ml.

"Whilst the UK government have stated that the aim of the sugar tax is to persuade people to drink less sugary drinks, if the UK's soft drink manufacturers reformulate their products in a similar way to Barr, the tax won't generate any revenues," he said.

This week's announcement by Justine Greening MP that £145m of the sugar tax would go towards sports and healthy eating programmes in schools suggested the government did expect to collect the tax, Whyatt added, which "may lead to the government changing the goalposts for the sugar tax and lowering the threshold such that Barr products are once again captured."