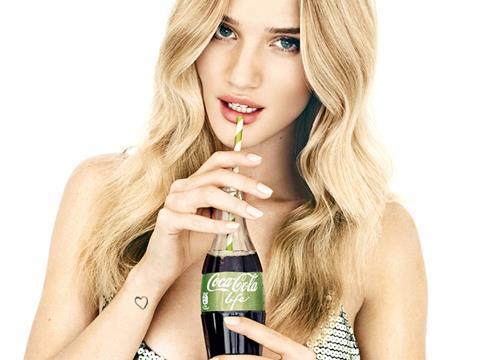 What is it they say about death and taxes? Britain's biggest grocery brand is grappling with both as it finally lays to rest 'mid-calorie' stevia-sweetened cola experiment Coke Life, and faces a sugar tax bill of hundreds of millions of pounds. So what should Coke's next move be in today's ever more sugar-conscious climate?

The trade is unanimous: forget Life and push Pepsi Max rival Coke Zero Sugar. Life was already on shaky ground within a year of its 2014 launch, just months before Tesco's Project Reset kicked off and the supers began cutting ranges. It hit £26.5m in its first year (£20m less than Zero's first year), but began to slide in August 2015 as launch support tailed off and space was lost.

The problem wasn't only the unfortunate timing of range rationalisations. People just didn't get what Life was. Coca-Cola European Partners said last April that half of drinkers didn't realise it contained 33% less sugar than classic, or that Coke Zero contained none. In response, Coke cut Life's sugar by 15% and dialled up on-pack messaging. Zero became Coke Zero Sugar.
Why not just reformulate Coke?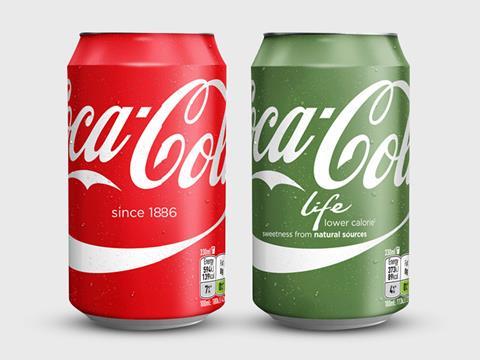 The Coke recipe is a sacred cow. You tamper with the formula at your peril. (See the backlash when Coca-Cola replaced its flagship pop with a new version in the 1980s, prompting the hasty reintroduction of the so-called 'classic'.)
But the idea all full-sugar Coke follows the same recipe is a myth. The use of cocaine in John Pemberton's original version has long since been abandoned, but since the 1980s, the US has used cheaper high fructose corn syrup, whereas in the UK, Mexico and other markets, it uses sucrose derived from cane sugar.
And it's not just the source that differs: the levels of sugar content also varies. According to a 2015 report by Action on Sugar, a 330ml can of Coke from Thailand contained 32g of sugar; in the UK it was 35g; in Canada it was 39g.
So why not use less in the UK, in line with Thailand?
It is possible, clearly. Possible but not probable. "Coke will remain Coke," says CCEP marketing director Simon Harrison. "We've no plans to change the recipe. Millions have loved it for 130 years and they'll continue to love it. For those who like the taste but want zero sugar we have Coke Zero Sugar."
Zero's reformulation and explicit new name paid off. Sales have surged 25.6% to £115.1m in the past year [IRI 52 w/e 25 February 2017], making it the only major Coke variant in growth, while classic fell 2.2% to £612.3m and Diet slipped 1.4% to £438.1m. Conversely, Life slumped 62% to just £7.2m. The brand investment, which in its first year accounted for nearly 10% of Coke's UK ad spend, clearly didn't deliver.

"You're right - Coke Life only accounts for about 1% of our sales," says CCEP marketing director for Great Britain Simon Harrison. "What we'll be doing is focusing on the real growth engines, Coca-Cola Zero Sugar and Diet Coke. We're not investing in Life. We're putting all our efforts and resources into the other three variants."

It's easy to see why. The timing of George Osborne's announcement of the sugar tax last April, just as production of the new lower sugar version of Life was beginning, couldn't have been worse for CCEP. Despite the reformulation, Life was still in the second tier of the sugar tax, meaning it would have been subject to a tax of 18p a litre next April.

Classic Coke, which accounts for roughly half of the brand's sales in grocery and 57% of Coke's total sales, is facing a levy of 24p a litre, equating to a tax bill of hundreds of millions of pounds. "We intend to pass the tax on to our trade customers," says Harrison. "The retailers set their prices. Our assumption would be they would then pass that on to consumers."

The devil will be in the detail. If the levy is simply passed on, the price of 500ml of classic Coke would rise by just 12p. That would end price parity across Coke variants and rivals' portfolios. It is the health lobby and government's expectation that this will happen, although it is not written into law. CCEP says discussions are ongoing with retailers over price parity.

Vimto customer marketing manager Ed Jones doubts a simple price rise would act as a deterrent. "At the end of the day if you want to pick up a regular Coke on 7 April you will still do that even if it's slightly more money than on 6 April. The more interesting question is how that price is passed on. How does a retailer manage having a red Coke and a Diet Coke at two different price points? I can't see that happening."
"Half of drinkers didn't realise Life contained 33% less sugar than classic, or that Coke Zero contained none"
Even full-sugar Pepsi is up
It's in the interests of Coke, which has the greatest reliance on full-sugar pop of any brand, that this does not happen. But there are other challenges facing Coke: chiefly its losses to bitter rival Pepsi, which (notwithstanding its recent ill-judged ad) continues to win over younger consumers with Pepsi Max, up 13.5% to £272.3m. Even full sugar Pepsi is up by 2.6% to £128.3m.

The Coke brand needs to regroup, says Karen Connell, founder of branding consultancy the SMALLmighty. "Life was always going to be big to begin with because of the sheer distribution power of Coca-Cola, but the opportunity just wasn't big enough. They innovated to create noise and replace the conversations with retailers about trade spend. But it fooled no one," she says.

"Part of the problem is you have one company [The Coca-Cola Co] building the brand and another [Coca-Cola European Partners] building distribution. The two don't necessarily have the same goals. Coke needs to invest in brand Coke. I don't mean full fat. There's no reason why Diet Coke and Zero can't appeal to younger consumers like their rivals. Coke is a great brand. It can do this."