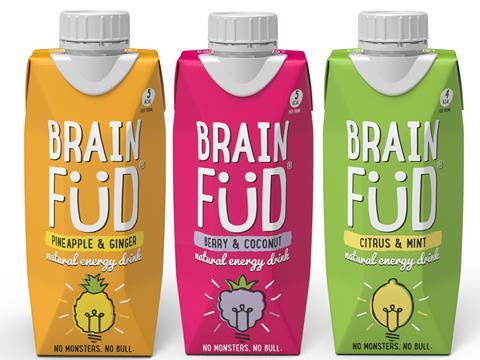 Energy drink startup Brain Füd has been forced to change its packaging and slogan after receiving legal threats from Red Bull over a trademark infringement.

A natural energy drink with no sweeteners or added sugar, Brain Füd, used the sentence "No Monsters. No Bull" on its packaging, website and social media posts.

However, Red Bull's legal IP team demanded it stopped using the slogan, because the energy drink giant had already trademarked "No Bull".

In a letter to Brain Füd founder Philip Udeh seen by The Grocer, Red Bull said it valued "healthy competition", but was concerned the use of the slogan was a "direct reference" to its brand.

"Your energy drink unfairly benefits from the Red Bull brand and reputation we have worked hard to develop and protect," the letter stated. "Your branding strategy appears to draw customers' attention to the fact your product is better, as a natural energy option, as opposed to Red Bull and other energy drink products."

Red Bull asked Brain Füd to remove all references to "No Bull" from its products and packaging and not to use them again in the future. However, it said it "was happy for us to continue to use it on pack up until our next production run," claimed Udeh.

Brain Füd will now rebrand and relaunch with completely new packaging in cans from November - changing its brand name to Füd.

Udeh claimed Red Bull has never actually used the term "No Bull" on its own products or advertising. If proven, that would have given the startup legal grounds to challenge the trademark infringement, according to Georgie Collins, IP solicitor and partner at Irwin Mitchell.

But Udeh said he was happy with the outcome. "I guess if we did want to spend money to challenge this we probably could.

"However, I won't say that is unfair because we were having a bit of fun and playing on the whole Monster and Red Bull not being natural and I [can] see why they would not like us to use something that refers to their brand as something that is not natural."

This is not the first time Red Bull fought the use of the phrase "No Bull" by other companies.

Back in 2012, the energy drink giant took rival Bullet to court and won as its name and slogan - "No Bull in this can" - infringed the company's trademarks, "Bullit" and "Red Bull".

Bullet claimed Red Bull had acted in bad faith by registering a trade mark for "Bullit" without ever using it, but the court granted Red Bull the injunction preventing Bullet's advertising and sale in the EU.

Red Bull did not comment when contacted by The Grocer.