PepsiCo and SodaStream are playing up the benefits of the launch
Ever since PepsiCo snapped up home-carbonation brand SodaStream for $3.2bn (£2.5bn) in 2018, there's been speculation about whether the soft drinks giant would add its leading retail brands to the format.
This month, it finally showed its hand with the launch of a quartet of branded SodaStream syrups for Pepsi, Pepsi Max, 7up and 7up Free.
They're rolling out to Sainsbury's, Asda and Ocado in a 440ml bottle. Each contains the equivalent of nine litres of the soft drink of choice – once they've been mixed with water and carbonated, that is.
It's a big move, similar to launches other soft drinks brands have tried with no luck. Coca-Cola, for instance, backed the launch of a machine called Keurig Kold in the US in 2016, but it was axed after just nine months.
So what makes PepsiCo think it can succeed? Does it make sense for shoppers to switch? And are supermarkets really the right channel for a launch by the largely DTC SodaStream?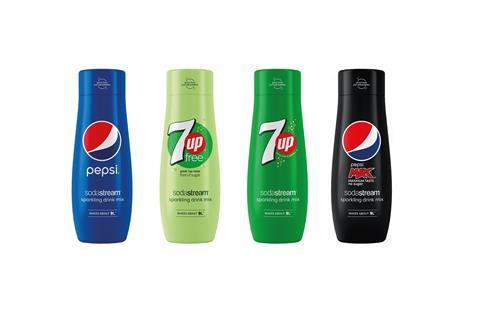 Home prep trend
The brand's UK&I GM, Tiago Alves, insists consumer interest has grown over the past 18 months as habits have changed during lockdowns.
That's backed up by HRA Global MD Hamish Renton, who notes a "whole trend towards in home preparation of products. We've seen this in booze with kegs in home and mini fridges."
While big bottles of store-bought soda "go flat; on day five, six or seven there's less bubbles", being able to make drinks on demand solves that problem, he adds.
It's certainly seems economical for shoppers to switch from big, take-home bottles of soda to SodaStream flavours. After all, a two-litre bottle of Pepsi Max is currently priced at £1.50 in Tesco, for instance.
A bottle of SodaStream Pepsi Max syrup, on the other hand, costs £4.99 but makes four times as much pop – equating to a saving of about 20p per litre.
There's also the one-off cost of the machine itself, of course. But at as little as £70, its markedly cheaper than, say, the $369 (£287) price tag that kept shoppers away from Coke's Keurig Kold in droves.
"Why would you not do this as a subscription service?"
Also in SodaStream's favour are its sustainability credentials, with its reusable bottles aimed at cutting plastic use.
And the latest syrups launch is squarely targeted at encouraging shoppers to reduce packaging waste by buying fewer cans and bottles of PepsiCo's leading drinks. They currently number in the hundreds of millions. Pepsi alone shifted 373 million packs last year in grocery [Nielsen 52 w/e 26 December 2020] across all variants.
In spite of the new syrups' many advantages, however, there remains the question of incremental sales.
Is PepsiCo not at risk of cannibalising its own retail values – which stand at £698.5m for Pepsi and £63.9m for 7up [NielsenIQ 52 w/e 17 April 2021]?
"I'm not 100% sure why it is a retail-type launch," says Richard Horwell, owner of Brand Relations. "Why would you not do this as a subscription service?
"I would think PepsiCo would be a bit nervous about the knock-on effect to their retailers because they've spent their whole life dictating to retailers and now they are taking business away from them," he adds.
Cannibalisation
SodaStream – which has also made the new flavours available from its website – believes it can have it both ways.
Cannibalisation of sales is "not a concern" insists Alves. "In fact, in markets where we have launched Pepsi flavours, we have seen an uplift in sales throughout the portfolio thanks to the surrounding campaign and resulting increase in awareness."
Alves says supermarkets will remain a major focus for SodaStream, which last year made a major push into the mults, launching machines into Asda in April, followed by a rollout in Sainsbury's five months later.
In which case, it should now expect even greater scrutiny, Renton suggests. "Everybody will be watching this quite closely," he predicts.
"That idea of getting the bulk product home then the carbonation being done there: that's the holy grail, because the punters are wired into your distribution network."


Daniel is The Grocer's food and drink editor and is responsible for our product coverage across all fmcg categories.

Daniel has written about food and drink for the majority of his career: prior to joining The Grocer in 2017, he covered food and drink news on pub industry title The Morning Advertiser, and wrote features for VICE magazine.

Follow Daniel on Twitter: @WoolfsonExists