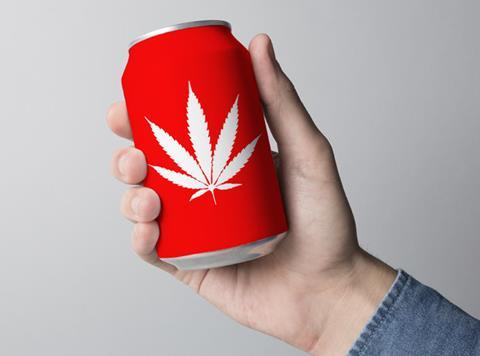 Thought mango-flavoured Diet Coke was a bit off the wall? A bit weirded out by the idea of a peach-flavoured Zero variant? Well, fasten your seatbelts, because the world of Coca-Cola is about to get a lot stranger. Yes, we're talking cannabis Coke.
Just don't call it that in front of Coca-Cola. For though the company has not denied reports of holding talks with Canada's Aurora Cannabis Inc, first brought to light by Bloomberg this week, it is at pains to point out it has "no interest" in cannabis. And unlike the many guilty-looking teenagers who have trotted out this line before, Coca-Cola means it. Instead, it is the non-psychoactive constituent – CBD – that floats its boat. "Along with many others in the beverage industry, we are closely watching the growth of non-psychoactive CBD as an ingredient in functional wellness beverages around the world," it said.
The non-committal statement suggests a drink may well be on the way. Whether it will be under the Coke brand is unknown. But if it is, let's be clear on one thing: it is not, under any circumstances, cannabis Coke. Got that?
Bah. We all know what we'll be calling it (and it's not 'Non-psychoactive CBD Coke'). This perhaps explains why big companies have largely shied away from CBD oil, despite all the talk of its therapeutic qualities. Because however much you take pains to highlight the difference between cannabis and CBD, the finer points are likely to get lost among all the jokes about stoners.
Some big brands have already taken the plunge. Earlier this year, Molson Coors announced its intention to make cannabis-infused drinks with Hydropothecary. But somehow this doesn't seem so headline-grabbing. As an alcohol brand, it's already dealing in a psychoactive substance. So to be linked to another can only do so much damage. For a typically clean-cut brand such as Coca-Cola, it's a different story.
There are some brands that have successfully gone down the wellness route. Love Hemp Water, which contains 2mg of CBD and is certified 0.0% THC (the psychoactive bit), counts itself among the "functional wellness beverages" market that Coca-Cola would be targeting. It has gained listings in Holland & Barrett and Ocado, and the brand says it sold a "record number of bottles" this summer. Supplement company FutureYou made headlines yesterday with a study on its CBD-containing coffee, which was linked to a reduction in stress and anxiety.
But these are niche products, and not something you'll find in the big four. If a giant like Coca-Cola gets involved, it has the potential to raise awareness of CBD as an ingredient. If consumers can find it on the shelves at Tesco, that's surely a giant leap towards normalisation. So perhaps that's just what this market needs. In that case, bring on the Non-psychoactive CBD Coke.