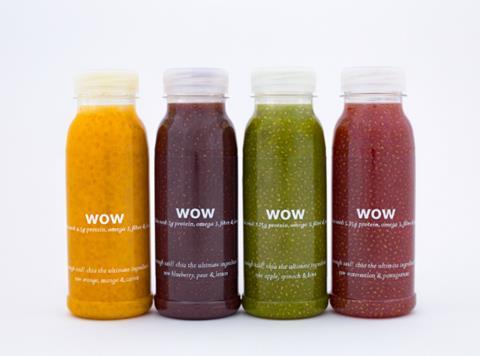 Chia-based drink Wow has launched in the UK, less than a year after winning Europe-wide approval to use the seeds in a beverage.
Rolling out with a new look to retailers including Selfridges, Whole Foods Market, Planet Organic and Harrods, the cold-pressed juice comes in four flavours: watermelon & pomegranate; orange, mango & carrot; apple, spinach & kiwi; and blueberry, pear & lemon. Each 250ml bottle (rsp: £2.79) contains 11.36g of hydrated chia seeds from Bolivia, along with 6.4g of protein and 6g of fibre.
The product's maker, Wow Food & Drinks, was founded in London in 2014 by young entrepreneurs Oliver Dickinson and Rory Paterson, and last year became the first company in Europe to be granted FSA approval to produce beverages containing chia – which is classified by the EC as a 'novel' food.
The brand has also has listings in major German supermarkets Kaiser's Tengelmann and Edeka, and in Austria's Spar.
"Having experienced the health benefits of chia seeds first hand, we wanted to share this experience and deliver a product that makes people feel amazing," said Dickinson.