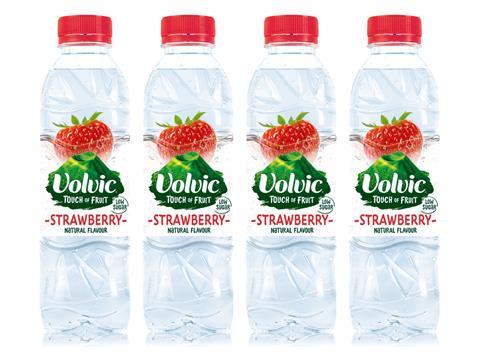 Volvic has reformulated its Touch of Fruit range with around half the sugar – despite already being below the soft drinks levy threshold.
From mid-June, the flavoured water drinks will roll out in new-look packs with 2.4g of sugar per 100ml, sweetened with stevia to bring sugar content down from as much as 4.8g.
The result of 18 months' development, the reformulated Touch of Fruit came because more and consumers were actively trying to reduce their sugar intake, said Jacqueline Lane, Volvic brand manager for UK & Ireland.
"People are looking to brands and manufacturers to help them make health-conscious choices, and the new reduced sugar Volvic Touch of Fruit original range does just that."
It will be backed by the brand's biggest push, the £2.5m 'Well that's refreshing', from 30 July to 31 August, focusing on the reduced sugar Strawberry and Lemon & Lime variants while also featuring Touch of Fruit's sugar-free lineup.