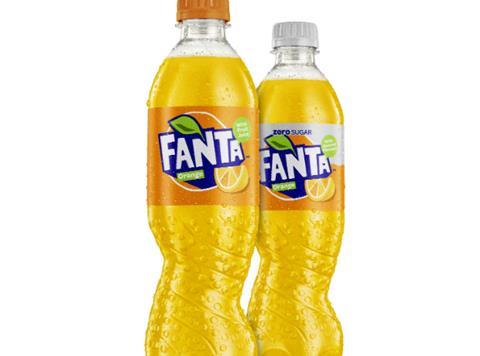 Coca-Cola European Partners has made another commitment to lowering sugar across its soft drinks portfolio by reformulating Fanta's core variant to cut its sugar by a third. The revamped recipe means Fanta Orange now has 4.6g of sugar per 100ml from 6.9g, following a similar reduction in 2006.
The latest change comes just weeks after CCEP embarked on another major low-sugar push across other brands, announcing new Zero Sugar variants, a multimillion-pound Diet Coke campaign, and smaller cans for Schweppes and Appletiser.
Lower sugar Fanta Orange will roll out in May, the same month in which the drink will be poured into a drastically redesigned two-litre plastic bottle. The result of nearly two years of development, it replaces the traditional symmetrical style with a spiral that twists the plastic – an industry first, according to the supplier. A 500ml version will land on shelf later in the year.
Both formats will feature Fanta's fresh visual identity centred on a logo created by digitising hand-cut paper to depict "movement and spontaneity". It is set to makes its debut on pack next month.
The latest evolution of the brand was an example of how CCEP was "energising" its portfolio to ensure its brands remain relevant, said Simon Harrison, operational marketing director.
"This year looks set to be the biggest in Fanta's history. We are delighted to be launching this new look alongside a new recipe… which consumers have told us tastes better than ever."