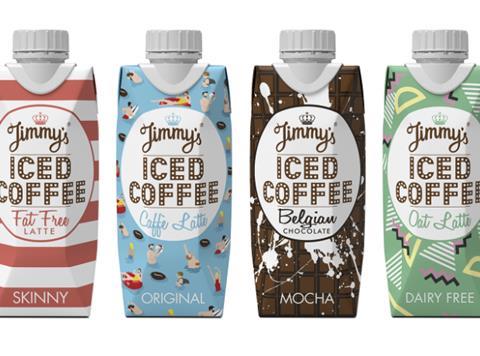 Jimmy's Iced Coffee has reformulated its chilled drinks to drastically cut the amount of added sugar.
The brand will begin rollout of its overhauled lineup next week, after cutting the amount of unrefined sugar added to three of its four variants.
Added sugar in Jimmy's Iced Coffee Original has been reduced by 35% from 2.75g per 100ml to 1.8g, leaving the drink's total sugar down 12% to 4.8g per 100ml from 5.4g. Meanwhile, the brand's fat-free Skinny has undergone a 33% reduction in added sugar – from 2.25g to 1.5g per 100ml – leaving it with the same total sugar as Original.
Both drinks will land in chillers from 4 June, along with Jimmy's reformulated Dairy-Free coffee made with oat milk. It has had its added sugar cut by 67%. In September, a second overhaul will see the variant with no added sugar, while total sugar will be down to 4.4g per 100ml from 5g.
There were currently no plans to change Jimmy's Mocha option, the brand said.
All its drinks will appear in new-look cartons from next week. The "fun, vibrant and informative packaging" carries Rainforest Alliance certification for its coffee along with a map highlighting the Huila region in Colombia where the beans are sourced. The cartons also stress the British provenance of Jimmy's milk.
"We not only wanted a new look for the brand, we also wanted to communicate the conscious decisions we've made when it comes to our products," said the brand's co-founder Jim Cregan.
Lowering the sugar content and selecting single-origin Rainforest Alliance-certified coffee beans had been "a must", he added. "It's so important for our core millennial market to understand what they are buying and drinking."