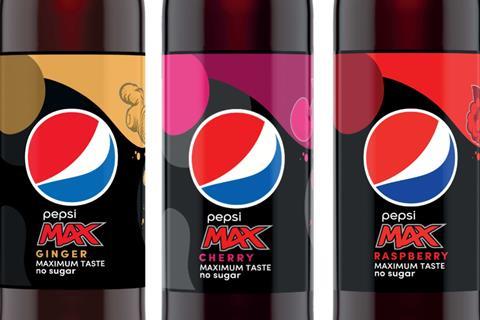 Pepsi has marked a major victory in the never-ending war of the cola giants, outselling Coca-Cola in UK grocery by more than £8m.
While Coke has added £41.2m to its value over the past year, Pepsi generated an extra £49.4m – marking an £8.2m win over its arch-rival [Nielsen 52 w/e 31 December 2019].
The latter brand's success was almost wholly down to the popularity of sugar-free Pepsi Max, which grew its value sales by 18.8% to £437.1m on volumes up 11.2% (the equivalent of 27.6 million extra units).
Shoppers were "becoming more demanding in what they expect from a cola, with taste but also health driving their choice" according to Ben Parker, home commercial director at Britvic, Pepsi's UK manufacturing and bottling partner. Pepsi Max was "challenging misconceptions around low-sugar drinks" he added.
In spite of Max's achievement, Pepsi's core and Diet variants have suffered value declines of 14.8% and 6.7% respectively, leaving the brand as a whole worth £599.2m in grocery.
Meanwhile, Coke has reached £1,355.1m – more than double Pepsi's value – driven largely by its Zero Sugar variant. It has added £36.7m to be worth £253.6m, making it bigger than the entire portfolio of Fanta, its CCEP stablemate, which is up 9.7% in value.
The UK's soft drinks category had "been one of the standout performers" in fmcg over the past two years, said Simon Harrison, VP of commercial development at CCEP GB.
"This has been driven, in part, by the acceleration of low and no sugar soft drinks, but also by increased innovation as the industry continues to offer more choice to consumers across a wide variety of segments, to suit different drinking occasions," he added.