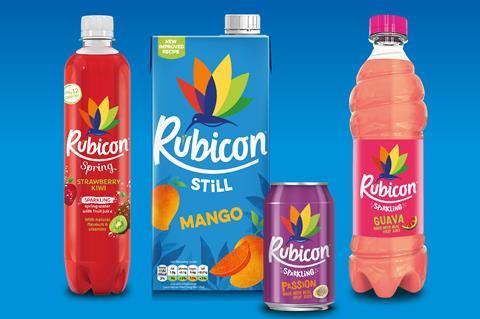 Rubicon has reformulated its range of still drinks and rolled out new packaging across the entire brand, after sales of the juice stalwart plummeted in the supermarkets last year.
It is the second time Rubicon has reformulated its 'Regular' still drinks range - comprised of mango, guava, lychee, passionfruit, watermelon and pomegranate flavours - since the sugar levy was brought into force in 2018.
The first time around they were reformulated to bring them under the levy. This time the brand said the new recipes would deliver "a much better taste while remaining below the sugar levy", using "the finest ingredients, hand-picked from across the globe".
Meanwhile, Rubicon packs have been redesigned across the brand's entire portfolio, with an eye to luring new shoppers.
The new look, which gives greater prominence to the had performed "really well in consumer research, with consumers viewing the new-look packs as vibrant, modern and eye-catching", said Barr Soft Drinks marketing director Adrian Troy.
Yet the news comes on the back of a disappointing year for Rubicon in the supermarkets: sales of its carbonated drinks fell £1m (6.3%) to £15.1m, on volumes down 4%, while sales of its stills were down almost a quarter (23%), plunging £4.2m to £13.7m [Nielsen 52 w/e 7 September 2019].