Excuse the boobs. But there's a serious point to all this: images such as the above (for Monster Energy) are common currency in sports & energy drinks. In this £1.3bn sector, sex sells.
Indeed, three of the top 10 brands' websites (Monster, Rockstar and Emerge) are filled with about as much female flesh as the pages of Maxim. And if schemes such as Monster Girl Mondays leave any doubt, Red Bull's extreme sports ties and Culture Clash event featuring 'killer dubs' clear it up: these drinks' marketing is all about boobs and noise. The target: testosterone-filled young men.
"It's almost perfect marketing: it's motorsport, it's rock music, and it's girls," claims Caroline Cater, operational marketing director at Coca-Cola European Partners (CCEP), UK distributor of Relentless and Monster.
The three biggest energy brands - Red Bull, Monster and Rockstar - have turned in combined growth of £34.9m this past year [IRI 52 w/e 26 March 2016], suggesting their marketing is striking the right chord. But growth in the overall sports & energy drinks market has slowed to just 0.2%; volumes have sunk 0.5%.
So what's causing the slowdown? Bikini-clad babes and BMXing have proved a hit with younger drinkers, but it's doubtless deterring others. So how can brands appeal to them? Is it time the sector finally grew up?
"Energy is still in growth, but not as fast as three or four years ago," says Cater. Growing public concern about sugar has played a part in the slowdown, suggest many, but it's also inspired a slew of low-cal innovations; Cater refers to the zero sugar Monster Ultra range as the brand's 'secret' weapon, having played a crucial part in its category-beating growth.
"It is almost perfect marketing: it's motor sports, it's rock music, and it's girls"
Indeed, low-cal looks set to be a major focus for all brands. "The sugar debate is not a new phenomenon and has been around as long - if not longer - as the energy drinks market has existed," says Peter Gutierrez, CEO of Intercaraboa, supplier of South East Asian drinks brand Carabao, which is new to the UK this year. "In an era where consumers are becoming increasingly aware of product contents and how these might affect their lifestyles, we anticipate that producers will need to be increasingly open and transparent with consumers."
Offering sugar-free options is translating into incremental sales for brands. "Sugar-free sales are growing at a phenomenal rate following the move within a number of consumer groups to eat and drink less sugar," says Al Gunn, sales director at Boost, whose sales are up 2.7% to £19m on volumes up 11%.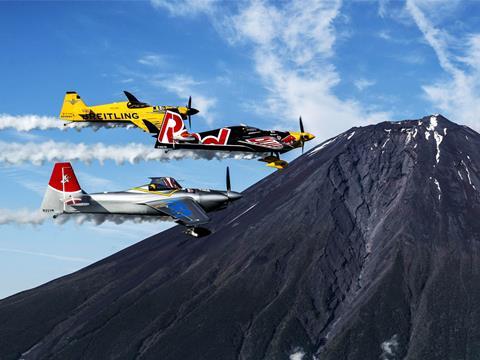 Sugar
Mark Sterratt, head of customer marketing & business intelligence at Lucozade Ribena Suntory (LSR), agrees. "Low-sugar options are growing in importance within the energy drinks market," he says. "Shoppers are more health-conscious, with 92% actively trying to reduce their sugar intake. Within convenience, 49% of c-store shoppers say having 'healthy options' available is important. Sugar-free and low-calorie energy drinks continue to pour into the market as shoppers increasingly expect to be able to consume energy-boosting drinks with less sugar."
To capitalise on the growth in zero-cal variants, Lucozade recently launched Lucozade Zero - a low-cal drink in Orange and Pink Lemonade flavours, backed by a £5m media campaign - to support what Sterratt says is set to be the brand's biggest launch of 2016.
Other brands have made similar moves. Last October saw the rollout of the Monster Ultra range. The range, in a textured, slightly less brash can, initially comprised three variants - a core citrus flavour, Ultra Sunrise and Ultra Red - all of which have no sugar and are sweetened with sucralose and ace-K. The launch signalled a step beyond Monster's core audience of male gearheads.
"Energy drinks used to taste like energy drinks whereas now they taste like soft drinks"
"With every segment - and energy is no exception - you're still looking for new ways to bring people into your brand, and the development of Monster Ultra is a really good example of that," says Cater. "Energy drinks always used to taste like energy drinks, whereas now they taste like soft drinks, so you're bringing in more people by offering things like low sugar and no sugar: great-tasting drinks that still have functionality."
It looks like that move - a tacit appeal to female and older consumers - is working for Monster. Sales have soared 10.8% to £137.5m on volumes up 11.5% to 60.4 million litres. But the marketing focus for Monster and sister brand Relentless remains resolutely on the guys who dig volume and action. They're tailored to fit their fan base, says Cater.
This creates huge brand loyalty, she adds. "What we've seen working, we'd expect to see continue, with real focus on the core consumer and making sure the brand has a role in their lives and hits their passion points," says Cater. "There's more pressure than ever before on brands to remain relevant to their audiences."
Sports & energy drink bestsellers ranked by IRI
Red Bull still has wings. It's delivered the greatest growth of the year, of £18m, thanks to a mix of NPD, the sponsorship of high octane sports events (such as the Air Race, pictured) and volume-driving multibuys.
Lucozade, meanwhile, had a mixed year. Energy grew chiefly as a result of the Lucozade Zero launch but overall growth was undermined by the decline of sports drinks, a sector where Lucozade Sport commands 71.8% share.
Monster also cashed in on the low-cal trend with Ultra but growth eluded CCEP stablemate Relentless, down £3.5m, despite the brand's ties with urban musicians.
SPORTS & ENERGY BESTSELLERS
IRI: 52w/e 26 March 2016
VALUE
VOLUME
AVERAGE PRICE
£m
y-o-y%
ltrs (m)
y-o-y%
£/ltr
y-o-y%
Lucozade
£463.8
0.2
267.7
2.0
£1.73
-1.7
Red Bull
£284.2
6.7
63.4
7.5
£4.48
-0.7
Own Label
£138.2
-13.0
113.7
-13.7
£1.22
0.8
Monster
£137.5
10.8
60.4
11.5
£2.27
-0.6
Rockstar
£61.4
6.2
30.9
7.1
£1.99
-0.8
Relentless
£59.4
-5.5
27.4
-2.3
£2.17
-3.3
Emerge
£32.1
8.5
27.0
10.3
£1.19
-1.6
Boost
£20.6
9.3
13.0
11.2
£1.58
-1.7
Mountain Dew
£18.2
-3.4
9.6
2.8
£1.89
-6.0
Powerade
£16.0
-30.2
7.9
-33.0
£2.02
4.2
Functionality
Gavin Lissimore, head of category marketing for Red Bull, has a different view. While it's great to be in a category of many strong brands that invest in their fans' lifestyle, his brand - the one that 'gives you wings' - is about body and mind, he says.
"The key part with energy drinks in general is that they offer consumers a function. We're always trying to balance our marketing mix and help consumers know when using an energy drink is right," he adds. "There's a lot of occasion-based marketing: you're at work, you're driving, you're studying. We try to do a wide mix of marketing to show we're relevant to as many people as possible."
Indeed, a quick look at the Red Bull website reveals the familiar mix of music festivals, motorsports and video games, along with daredevil activities on skis and surfboards (though it's worth noting there's not a bikini in sight). But of course, keeping energy drinks' clearly defined fans happy isn't all about making noise; flavour is crucial. "Flavour is where the NPD pipeline is in this category," says Lissimore, whose brand this year launched its Orange Edition.
Adrian Troy, head of marketing at Rockstar owner AG Barr, attributes the popularity of flavoured variants to growth in big can formats, where "two out of the five fastest-selling big can SKUs are Rockstar flavours".
"The key part with energy drinks in general is that they offer a function"
Trendy tastes in energy currently veer towards the tropical. Relentless has unveiled a Passion Punch, Rockstar recently extended its Punched Guava to the Pure Zero range, and June sees the launch of a Pineapple & Coconut addition to the Freeze lineup. Boost, meanwhile, has a new Tropical Guango to offer - and Al Gunn is confident it'll be a hit.
"Flavours, for us, were a huge success last year, and this trend looks set to continue," he says. "The latest insight tells us that sports & energy drinks now make up over a third of all soft drinks sales. An increasing number of adults are now drinking sports & energy drinks."
Sports, not so much - at least, not based on the evidence of Powerade, which has seen a tearjerking 30.2% gush from its value sales that sit at £16.0m. Lucozade's meagre growth, meanwhile, has been weighed down partly by the ongoing difficulties of the sports drinks sector (the brand is the only one to straddle both sports and energy drinks sectors). The difficulties can be attributed to big movements of spend into water, both plain and flavoured.
"The sports category has really struggled over recent years," says Cater at Powerade distributor CCEP, targeting the late 2000s recession as the start of the sector's problems. "Pre-2008, sports had been in relatively good health, but there came a point in time where consumers started to look at how they were spending their money. If they wanted hydration, they could buy into water; if they were looking for energy, they could buy into energy drinks; and sports got caught in the middle."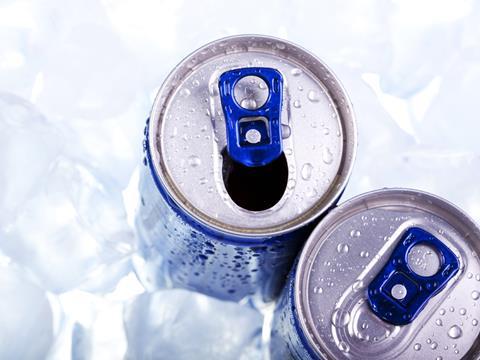 Sports drinks
Major sporting events present an excellent opportunity for retailers to drive sales, says LRS's Sterratt. "During the Rugby World Cup 2015, the market was flat in value and volume. However, the sports category saw significant benefit during the competition as a result of Lucozade Sport's performance."
There's still a place for sports drinks, insists Cater. "But there are probably other categories meeting consumers' needs better at this point." Which is why CCE hasn't invested in much innovation in sports drinks - although Powerade remains a strong brand, she says. "It's well understood; it's global. We'll still tap marketing opportunities, but at the moment the innovation from a pack and a product perspective is more in water and energy."
Speaking of packs, many suggest further growth can be unlocked by the development of new formats. Cater points to the launch of resealable 553ml cans of Monster Energy last year as a case in point, adding multipacks are another potential opportunity. Indeed, that Kantar Worldpanel puts take-home sales of sports & energy drinks, the majority of which are made up of multipacks, at just £259.6m [52 w/e 27 March 2016] suggests significant room for growth.
"There is an opportunity to take advantage of natural and organic alternatives"
Red Bull remains focused on the impulse market. Lissimore says the brand has seen its 250ml and 355ml singles "really work" thanks in part to the use of multibuy deals. "We tend to promote multibuys to encourage people to upweight their purchase," he says. "It's a 'one for now, one for later' kind of idea."
Sugar-free products and multiserve packs aren't the only opportunities for growth, of course. While still niche, a number of players claim to be winning over a growing number of consumers with a new breed of 'natural' energy drinks using functional ingredients as weird and wonderful as baobab, ginseng root and even artichoke leaves (see below).
"Sixty-two per cent of UK consumers do not drink energy drinks, mainly due to their dislike of the ingredients and the taste," claims Charles Philips, CEO and founder of Scheckter's Organic Energy. "In order to grow this category, there is a huge opportunity to take advantage of natural and organic alternatives as opposed to selling mainstream energy drinks." Such products could help counter balance the big brands' brash marketing and attract new drinkers, he adds. "Mainstream energy drinks are generally viewed as being packed full of artificial ingredients that leave the consumer with a nasty aftertaste. The best way to counter this perception is to highlight alternatives now on the market. An energy drink can be delicious, free of artificial ingredients, certified organic, and provide a natural energy boost."
TAKE HOME SHARE
Energy & sports drinks: 52w/e 27 March 2016
VALUE
VOLUME
£m
y-o-y%
ltrs (m)
y-o-y%
Energy
219.2
0.9
150.0
3.0
Sports
40.4
-10.9
41.0
-6.1
TOTAL CATEGORY
40.4
-10.9
41.0
-6.1
BRANDED VS OWN LABEL
Energy & sports drinks: 52w/e 27 March 2016
VALUE
VOLUME
£m
y-o-y%
ltrs (m)
y-o-y%
Branded
233.4
0.4
163.7
2.9
Own label
26.3
-13.0
27.3
-9.9
RETAIL SHARE
Energy & sports drinks: 52w/e 27 March 2016
TRADING
VALUE
retailers
grocery
category
index
y-o-y%
Morrisons
10.4
10.7
103
-4.4
Tesco
28.1
28.3
101
-4.1
Asda
16.6
16.6
100
-3.0
Sainsbury's
16.0
15.4
96
-2.4
Waitrose
5.0
4.7
95
2.8
The Co-operative
6.1
5.2
85
-1.2
Independents
2.0
1.4
70
-6.0
Aldi
6.1
4.0
66
15.8
Lidl
4.4
2.8
64
2.7
M&S
3.2
1.1
34
-0.1
'Natural energy'
But if such brands are to gain critical mass, retailers need to start devoting more space to them, says Huib Van Bockel, the ex Red Bull executive who founded natural energy drink brand Tenzing last December. The product contains roughly the same amount of caffeine as a strong cup of coffee (derived from guarana and green coffee) but has half the sugar content of most mainstream energy drinks
"What I think retail will and should do is carefully look at the healthier energy drink alternatives with lower sugar contents, the ones they believe will most likely succeed, and give them space to grow on their shelves," says Van Bockel. "The most positive and promising outcome would be a team effort between the innovation of healthier startups and the power of retail, creating a successful subcategory that is fit for the future - just like what happened with coconut water."
As retailers reduce the sugar in their own-label drinks - Tesco recently announced a 13% reduction in the 12 months to March, equivalent to the removal of 1,428 tonnes of sugar - so brands will come under greater pressure to provide healthier alternatives, predicts Edward Van Houtte, marketing manager for Sunsoul. "This means smaller brands have bigger opportunities now than they would have a few years back."
And the rise of natural energy will lead to stagnation for the sector's biggest players, he believes. "The sexualisation and immaturity of market leaders such as Red Bull and Monster only attract 16 to 23-year-olds, a declining market segment. They cannot change their branding as they are all well established. But their branding hasn't been updated to 21st century standards, which in time will reflect on their sales."
One thing's for sure; as such brands gain mass, there won't be a bikini in sight.
Sports & energy drinks innovations
Virtue Energy Water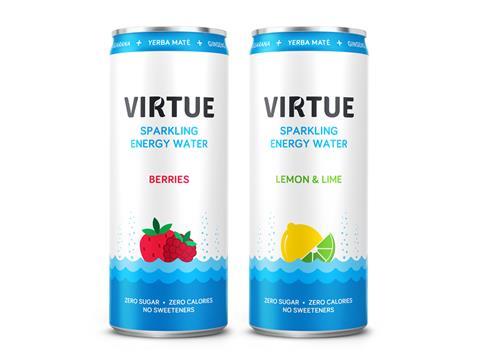 Launched: June 2016 Manufacturer: Virtue Drinks
The brainchild of The Grocer Top New Talent winner Rahi Daneshmand, this sparkling flavoured water in two variants (Lemon & Lime and Berries) promises the same amount of caffeine as a cup of coffee. The energy comes from yerba maté, the South American tea leaf and "natural antioxidant powerhouse", guarana and ginseng. For every 250ml can sold (£1.35), 500 litres of drinking water will be donated to developing countries via charity Drop4drop.
Youth Energy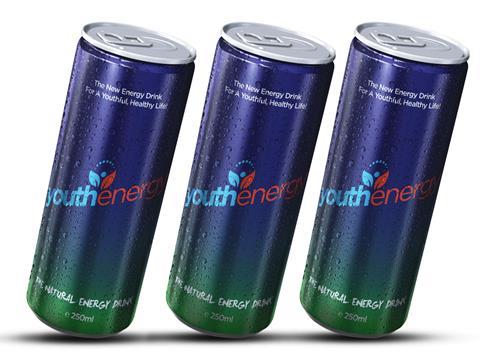 Launched: April 2016
Manufacturer: Vitality 1 Health Care
It comes in the same format as 'regular' energy drinks, and it has a similar taste - but Youth Energy's ingredients are pretty far from the mainstream given they include ginseng root, artichoke leaves, ginkgo leaves, yerba mate and apple juice. All which combine to promise a lack of bitter aftertaste. Rsp: 99p/250ml.
Vivid Unsweetened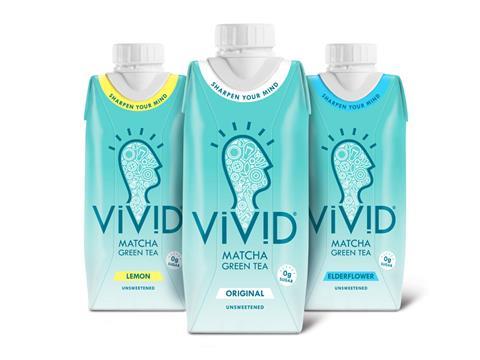 Launched: June 2016
Manufacturer: Vivid
This three-strong range of drinks (rsp: £1.89/330ml) - launched to replace Vivid's with-sugar portfolio - is made with matcha, a green tea powder the brand says is "a superfood for the mind". It's also rich in the amino acid L-theanine, which has been studied for its potential to reduce mental stress and boost mood.
Point Blank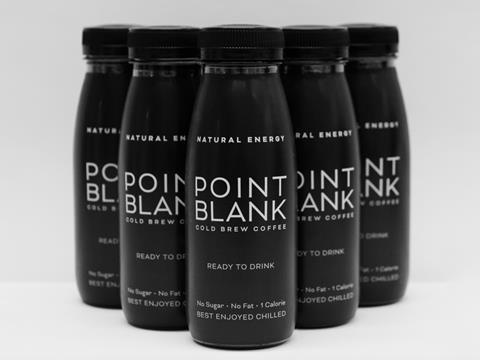 Launching: July 2016
Manufacturer: Point Blank
If this looks and tastes like trendy cold-brew coffee, that's because it is. But Point Blank is positioned as a natural energy blast created by a process that "draws out sweet chocolatey and caramel notes". And at one calorie per 250ml serving (rsp: £2.49), it's an alternative option for the body-conscious.
Red Bull Orange Edition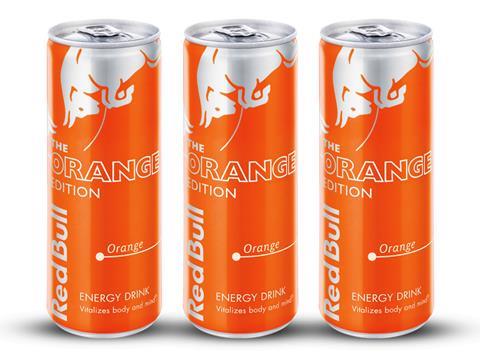 Launched: March 2016 Manufacturer: Red Bull
Red Bull commits to just one major piece of NPD per year - and this was 2016's, released to reflect the fact that orange, by some distance, is the most popular of energy drink flavours after original, accounting for more than 40% of flavoured drinks sold [IRI 52 w/e 23 January 2016]. The striking 250ml can (£1.19) is Red Bull's third special-edition variant for the UK, following Blueberry and Tropical. The latter was 2015's "number one biggest NPD in energy", according to the brand.
Caraboa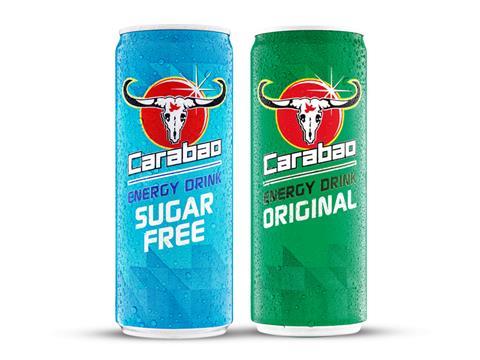 Launched: May 2016
Manufacturer: Carabao Tawandang Co
Established 15 years ago in Thailand, considered by some industry players to be the home of energy drinks, Carabao arrived in the UK in Original and Sugar Free variants (£1.19/325ml). With a strapline of 'Bring it On', the drink takes inspiration from the physically powerful Asian water buffalo that appears in its logo.
Relentless Passion Punch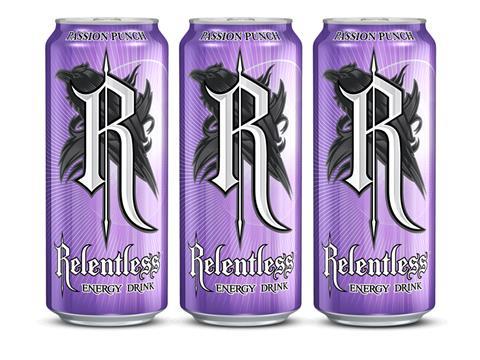 Launched: April 2016
Manufacturer: Coca-Cola European Partners
Tropical is hot right now. So, it made sense for CCEP to introduce Passion Punch as the new flavour (in a 500ml can) to herald this spring's packaging refresh across all six Relentless variants. In an increasingly crowded category, even the most powerful energy brands need to work to stand out on shelf.
Boost & Boom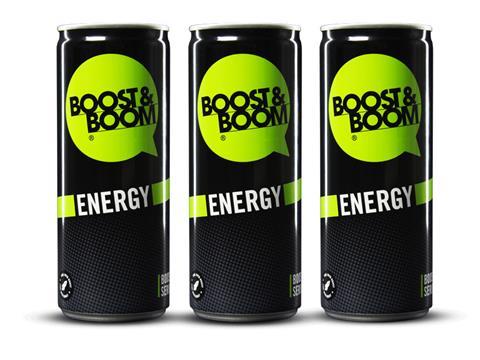 Launched: May 2016
Manufacturer: Boost & Boom Manufacturing
Boost & Boom indeed! This new entry (rsp: 99p/250ml) promises more wallop than mainstream rivals, with 'key benefits' listed as 20% more caffeine (32mg per 100ml), extra taurine, added vitamins, and 100% of its sweetness derived from cane sugar. It's made in Northern Ireland as an extension to a range of muscle-building products.