The wet summer has made it tough going for soft drinks. Volumes have fallen across carbonates, squashes & cordials, and juice drinks & smoothies - only bottled waters and sports & energy drinks have shifted enough units to ensure growth was more than simply price-driven.

The deluge, according to weather intelligence experts Planalytics, cost the industry 2.3% of its volume sales over the past year - though it was clearly not the only factor at play, as pressurised household budgets dampened the party mood and heightened the already fierce rivalry between key players.

Nowhere was the competition more intense than that between those old rivals: Coca-Cola and PepsiCo. And it was a case of honours even, with Coca-Cola ignominiously bested by Pepsi in the cola wars - despite its home Olympics advantage - while PepsiCo's Tropicana lost significant share to (Coca-Cola-owned) Innocent Drinks, as the smoothie standalone focused increasingly on its juice business.

In the meantime, on the bottling side, while Coca-Cola Enterprises was battling with the logistical challenges of the Olympics, rival Britvic was hit by a £25m product recall that contributed significantly to the bottler's merger with AG Barr.

In terms of bragging rights, then, neither side will remember 2012 with unalloyed happiness: Coca-Cola's pain in carbonated wasn't even limited to its biggest brand: six of its seven top 20 brands declined in volume. And the only one managing volume growth, Appletiser, lost value sales instead - quashed by more intensive promotions, up 18% compared with the year before [Brandview.co.uk], as Coca-Cola suffered from "lower levels of dealing through the multiples," according to Nielsen senior client manager Maria Petralli.

As Coke ran fewer promotions, arch-rival Pepsi plied many more - and at similar levels in terms of price reduction to last year. Its challenger brand tactics paid off: value sales of Pepsi's cola brands have grown 11%, versus Coke's lacklustre 1.8%. Pepsi Max was a particular asset, accounting for 60% of the overall value growth in Pepsi cola, according to PepsiCo, also aided by big night in initiatives like the cross-merchandising deal with Doritos in late 2011.

Britvic's Tango brand also had a good year, helped by the ongoing success of aerosol-powered Turbo Tango, launched in July 2011. The squirty drink "regularly featured in our customers' top 10 best-selling soft drinks, reaching number three in one of our key customers," says Britvic grocery commercial director Ian Forshew.

Shloer, meanwhile, posted solid value and volume sales - and the adult market is one to watch, says Waitrose soft drinks buyer Neil Whelpton. "Sales have been really strong, particularly during the summer of celebration. Sales over the Jubilee weekend were, in fact, higher than last Christmas."

The fastest-growing category remains sports and energy drinks - no longer in double-digit growth, but up a respectable 8.5% in value and 6.3% in volume. What the top-line figures do not reflect, however, is the growing dichotomy between sports drinks - with GSK's Lucozade Sport and Coca-Cola's Powerade failing to gain from 2012's 'summer of sport' - while energy drinks powered ahead. "Brand sponsors of the Olympics like Powerade may simply have cemented their status as the drink of choice for athletes, rather than appealing to a wider audience," says Dragon Rouge analyst, Donna Chan.

GSK hasn't given up: "In the afterglow of such a fantastic year of sport, there is a great opportunity to engage people by talking to them about the fact sports drinks are relevant to them and can help them get the best out of their sport," says Georgina McElwaine, GSK's consumer healthcare category controller.

Thankfully for GSK, its other big drinks brand, Lucozade Energy, is in healthy growth. Along with Red Bull, it continues to dominate the category - although the biggest value gains (£22.5m) in the category were recorded by CCE's Monster, which built on last year's momentum thanks to major gains in distribution, the launch of new products including still energy drink Rehab, and the brand's first on-pack promotion - with rally driver Ken Block - to overtake CCE stablemate Relentless.

Perhaps the biggest surprise in sports and energy drinks has been own label's change of fortunes. In 2011, private label outpaced brands with 17.7% value growth this year, while sales of Booker's Euro Shopper drink continued to soar, value sales of true own-label energy drinks rose a meagre 2.4% as volumes declined 9.1%.

It's a similar story in the juice drinks and smoothies market, where the value and volume growth of brands (4.6% and 0.6%, respectively), has outstripped the 2% and 7.5% declines in own-label sales. Not that brands have had it all their own way. Robinsons, of course, has been hit hard by the recall of its Fruit Shoot range: it has already contributed to a 25% - or £19.4m - drop in Robinsons' sales.

Other brands also report higher commodity costs preventing them from keeping up previous levels of promotional activity. "As with many juice brands, we have not been able to provide consumers with as many deep-cut promotional offers as the previous year due to raw material commodity pricing reaching a peak," says Joanna Watling, marketing director for Princes, which has dropped out of the top 10 this year after sales fell by a third to £13.3m. She added that the brand plans to fight back next year with new promotional mechanics.

But commodity cost concerns don't appear to have held back Innocent's stunning £62.4m additional sales - chiefly fuelled by better distribution of its 2011 juice relaunch, and the addition of two new blends - apple & raspberry and tropical. Innocent's performance contrasts with Tropicana's £24.8m reversal, though PepsiCo's Copella performed creditably, as it followed up 2011's winter variants with lemon and apple blends in April 2012.

The only disappointment for Innocent will be its bottled water. "Unfortunately, the very wet weather had a direct impact on our sales," says a spokeswoman. But its performance looks rosy next to Robinsons, whose losses in juice drinks have been compounded by a 27.1% volume decline in bottled water. Volumes for second-placed Evian also dipped as it reduced the amount sold on deal.

All things considered, however, bottled water has been bizarrely encouraging, as half the top 10 brands posted double-digit value and volume growth, despite own-label products now accounting for almost 30% of sales.

Opening its new £35m bottling and warehouse facilities in Buxton, Derbyshire, Nestlé puts the success of its Buxton and Pure Life brands down to a combination of their UK origin and the popularity of small bottle multipacks. But flavoured waters also contributed to the £10m in extra sales for leading brand Volvic, and Coca-Cola's Glaceau Vitaminwater climbed two places after growing its presence across multiples and impulse.

It was harder going in the squashes & cordials market. The only brand to enjoy a bumper year was Princes' Jucee, which grew value and volume sales by more than 50%, after running its first TV sponsorship on Nickelodeon and Nick Toons and increasing distribution. At least market leader Robinsons turned around the disappointing launch of Double Concentrate in February 2011 - thanks to TV advertising and shopper incentives. But like other soft drinks brands, it will have to work hard for growth next year. Let's hope the weather, at least, will be kinder.
TOP LAUNCH 2012
Lucozade Revive GlaxoSmithKline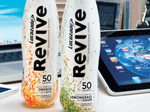 An energy drink for people who do not like energy drinks, Lucozade Revive has ditched the usual formula of sugar, caffeine and synthetic ingredients in favour of a blend of B vitamins and natural flavours. The calorie content is low - just 50 - and the company maintains the "disruptive" white sleeve clothing the traditional Lucozade bottle shape clearly communicates the low-cal proposition. So far, the drink (rsp: 99p) has been a hit, garnering £7m in its first seven months on sale.